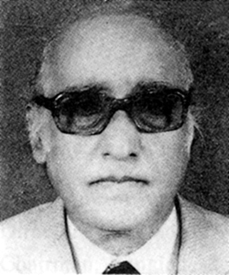 Chaudhury, Saifud-Din (1917-1997) economic botanist, policy planner, administrator. Born in October 1917 in Sylhet, SD Chaudhury studied in Government College, Lahore, and Presidency College, Calcutta from where he received his BSc (Honours) degree. He earned DIC and PhD from the Imperial College of London. He also received a Certificate on Plant Breeding from the Beltvilla Research Institute, USA.
SD Chaudhury served as an Economic Botanist to the Government of Assam from 1946 to 1947, and to the Government of East Pakistan from 1947 to 1953. He was Director, Jute Research Institute (1953-1961), and Director of Agriculture, East Pakistan (1961-63). He joined as Vice-Chancellor, East Pakistan Agricultural University, Mymensingh in 1963 and held that position until 1973. As Regional Agricultural Adviser, he was associated with FAO from 1974 to 1976.
Saifud-Din Chaudhury was appointed a Member, Planning Commission of the Government of Bangladesh in 1977. He retired from active service in 1979. As a scientist and planner, he was a consultant to many national and international organisations. As a research team leader, SD Chaudhury was responsible for breeding of several varieties of rice and jute, and development of horticultural crops such as Assam Lemon and the citrus Late Valencia.
SD Chaudhury has many scientific and technical publications. In recognition of his outstanding services, contributions and achievements in agriculture and science, he was honoured with Tamgha-e-Imtiaz and Sitara-e-Quaid-Azam by the Government of Pakistan. He was President, Pakistan Association for the Advancement of Sciences; bangladesh academy of sciences; bangladesh botanical society; Inter-university Board of Pakistan; Rotary Club of Dhaka; and Chairman, National Committee on the International Geosphere Biosphere Programme. [SM Humayan Kabir]