Chittagong District (chittagong division) area 5282.98 sq km, located in between 21°54' and 22°59' north latitudes and in between 91°17' and 92°13' east longitudes. It is bounded by khagrachhari and rangamati districts and tripura state of India on the north, cox's bazar district on the south, bandarban, Rangamati and Khagrachhari districts on the east and noakhali district and the bay of bengal on the west. Chittagong District is quite different from other districts for its unique natural beauty characterised by hills, rivers, sea, forests and valleys.
Population Total 6612140; male 3477178, female 3134962; Muslim 5661396, Hindu 817745, Buddhist 7959, Christian 118435 and others 6605.
Water bodies Main rivers: karnafuli, halda and sangu; Murari canal, Chandahkhali canal, Jalkandar canal and Dhalai beel are notable. Annual average temperature: maximum 33.8'C, minimum 14.5'C, total annual rainfall: 3194 mm.
Chittagong Town Chittagong Town, the main seaport of Bangladesh, is located at the estuary of the river Karnafuli. The Town is also called the commercial capital of Bangladesh. The first Export Processing Zone (EPZ) of Bangladesh, established in 1983, is situated here. Chittagong Municipality was formed in 22 June 1863. It was turned into Chittagong City Corporation on 31 July 1990.
District
Area (sq km)
Upazila
Municipality
Union
Mouza
Village
Population
Density (per sq km)
Literacy rate (%)
Urban
Rural
5282.98
14
9
194
985
1310
3381723
3230417
1252
55.55
City Corporation
City Corporation
Metropolitan Thana
Ward and Union
Mahalla and Mouza
1
12
41
207
Chittagong Metropolitan Thana
Name of metropolitan thana and GO code
Area (sq km)
Ward and Union
Mahalla and Mouza
Population
Density (per sq km)
Literacy rate (%)
Karnafuli 39
136.59
7+1 (Part)
27
179148
1312
45.70
Kotwali 41
7.68
9+1 (Part)
23
282975
36846
79.60
Khulshi 43
13.12
3+1 (Part)
45
243351
18548
60.30
Chandgaon 19
25.32
3
11
178390
7045
62.70
Double Mooring 28
8.12
5+1 (Part)
41
259181
31919
63.10
Panchlaish 57
8.30
1+1 (Part)
12
148120
17846
69.20
Pahartali 55
13.31
3
14
127243
9560
67.30
Bandar 20
20.04
4
11
213598
10659
72.60
Bakalia 10
12.33
3+1 (Part)
9
196877
15967
50.5
Bayejid Bustami 16
17.58
3
12
168051
9559
59.50
Halishahar 35
9.64
2+1 (Part)
26
125255
12993
62.40
Others Information of District
Name of upazila
Area (sq km)
Municipality
Union
Mouza
Village
Population
Density (per sq km)
Literacy rate (%)
Anowara 04
164.13
-
9
85
75
228530
1392
47.2
Chandanaish 18
201.99
1
10
44
55
192600
953
56.5
Patiya 61
211.70
1
16
102
104
323848
1530
59.1
Fatikchhari 33
773.55
-
20
102
206
441863
571
43.2
Banshkhali 08
376.90
1
15
72
113
391320
1038
29.5
Boalkhali 12
126.46
-
9
31
30
201590
1594
71.8
Mirsharai 53
482.88
1
16
113
209
368950
764
52.0
Raozan 74
246.58
1
14
64
66
325389
1320
64.1
Rangunia 70
361.54
1
12
73
133
298370
825
54.3
Lohagara 47
258.87
-
9
40
43
266741
1030
44.6
Sandwip 78
762.42
1
14
46
34
292773
384
46.1
Satkania 82
280.99
1
17
73
98
338563
1205
46.2
Sitakunda 86
483.97
1
10
69
59
335178
693
54.6
Hathazari 37
246.32
-
15
48
59
403788
1639
57.9
Source Bangladesh Population Census 2001,Bangladesh Bureau of Statistics.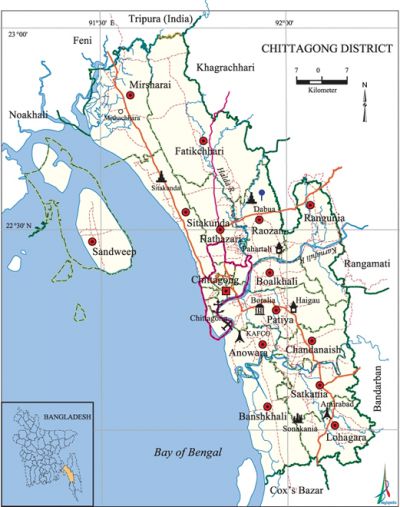 Administration Chittagong district was established in 1666 including three hill districts. In 1860, the district of Chittagong Hill Tracts was formed out of it. Chittagong district was further divided into Chittagong and Cox's Bazar districts.
Historical events Chittagong had been an international sea port since the ancient time. The Arab traders had business transactions with this port since 9th century AD. Chittagong region was under the kingdom of arakan during sixth and seventh centuries. Before the Muslim rule Chittagong had alternatively been under the kings of Arakan or the kings of Burma. Sultan Fakruddin Mubarak Shah (1338-1349) of Sonargaon conquered Chittagong in 1340. After the defeat of Sultan Giasuddin Mahmud Shah in the hands of Sher Shah in1538, the Arakanese again captured Chittagong. From this time onward until its conquest by the Mughals in 1666 this region was under the control of the Portuguese and the Maghs of Arakan. The Mughal Commandar Bujurg Umed Khan expelled the Portuguese from the area in 1666 and established Mughal rule there. The Mughals renamed Chittagong as Islamabad. On 18th April 1930, the revolutionaries looted the Chittagong armoury under the leadership of Mastarda surya sen. During this time the leaders of the women revolutionaries were pritilata waddedar, Bina Das, Lila Ray, Kalpana Dutta etc. Revolutionary Swadesh Roy was shot dead by the British soldiers in the Kalar Pole encounter. Besides, wounded Debu Prashad, Rajat Sen and Manaranjan Sen committed suicide to avoid arrest. In 1933 a number of revolutionaries including Masterda Surya Sen, Kalpana Datta hide out in the house of Kherada Prava Biswas of village Garla. Surya Sen and Brajendra Sen were later arrested by the British soldiers.
History of the War of Liberation On behalf of Bangabandhu sheikh mujibur rahman, the Declaration of the Independence of Bangladesh was announced by Shahid ziaur rahman on 27 March 1971 from the swadhin bangla betar kendra located at Kalurghat. A fierce battle was fought between the freedom fighters under Capt. Wali Ahmed, and the Pak army at a place near the Fenakuni Bridge on the south of Mirsharai sadar on 20 April 1971 in which about 100 Pak soldiers were killed. On 13 April the Pak army killed 48 innocent persons at Unasattarpara and 35 persons at Jagatmallapara of Pahartali union. About 56 freedom fighters were killed and many Pak soldiers were killed or wounded in encounters between the freedom fighters and the Pak army at KAFCO, Kaliganj and Paraikura of Anowara upazila. The Pak army brutally killed 15 innocent villagers at Banikpara of Amirabad. The freedom fighters killed 17 rajakars at Jotpukuria. A number of civilians were killed or wounded at Patiya sardar while the Pak army bombarded from two aeroplane. On 3 May the Pak army conducted genocide indiscriminately and set many houses on fire at village Muzzafarabad of this upazila. The Pak army brutally killed 75 persons on 19 May 1971 in Banshkhali; they also killed 89 freedom fighters at village Napora in October. Two freedom fighters were killed in an encounter with the Pak army near the Barabkundu Chemicals Bridge. The Pak army conducted genocide on 13 October in the Durgabari premises of Kadhurkhil; they also brutally killed 11 freedom fighters at Nazirhat bus stand area. In 1971, the freedom fighters (naval commandos) conducted a number of successful operations from Bandar and damaged a number of enemy ships by bomb explosion. The Pakistan army, on the verge of their defeat, planted mines in order to deadlock the port. After 16 December 1971, the experts sent by Soviet Naval Force conducted mine swiping operation for about three months. Several Soviet mariners were killed in this operation. During the war of liberation the Swadhin Bangla Betar Kendra was transferred to Dohazari from the Chittagong town.
Marks of the War of Liberation Mass graves 9 (PTI campus, Nazirhat, Karer Hat, Lelung Tea Garden, Darbar Sharif, Baganbari, Dandmara Ultobit, Banshkhali, Jotpukuria); mass killing sites 13; memorial monument 9.
Literacy rate and educational institutions Average literacy 55.55%; male 59.79%, female 50.83%. Noted educational institutions: Chittagong University (1966), Chittagong University of Engineering and Technology (1968), Sir Ashutush Degree College (1939), Satkania College (1949), Fouzdarhat Cadet College (1958), Chittagong City College, Chittagong College, Mohsin College, Chittagong Commerce College, Ispahani School and College, Patiya Ideal High School (1845), Banigram Primary School (1881), Ramgati Ramdhan Abdul Bari Chowdhury High School (1898), Ideal Pilot High School (1902), Abdus Sobhan Rahat Ali High School (1914), Rangunia Ideal Multilateral Pilot High School (1915), Uttar Amirabad High School (1932), Dr. Khastagir Government Girls' School, Chittagong Collegiate School, Satkania Garangia Islamia Kamil Madrasa (1920), Shah Chand Awlia Alia Madrasa (1928).
Main sources of income Agriculture 33.53%, non-agricultural labourer 4.30%, commerce 16.22%, industry 0.99%, service 17.61%, transport & communication 3.43%, construction 1.32%, religious service 0.44%, rent & remittance 8.48% and others 13.68%.
Newspapers and periodicals Present: Daily Azadi, Daily Purbakon, Daily Life, Daily Karnafuli, Weekly Chattala, Monthly Suprobath Raozan, Monthly Banshkhali Barta, Chandanaish Darpan, Monthly Patiya, Fortnightly Alokito Boalkhali, Weekly Chaloman Sitakunda, Monthly Rangunia Kantha, Monthly Hathazari Kantha, Monthly Mirsharai; defunct: Monthly Sanshodhani, Purobi, Mukulika, Simanto, Weekly Jyoti, Weekly Sultan, Daily Jyoti, Daily Rashtrobarta, Daily East Pakistan, Daily Azan.
Folk culture Various special types of folk culture and festivals such as Mejbani of the Muslim community, Mahadeshwari Puja of the Hindu community, Baisabi festival, buddha purnima, Prabarana Purnima, Kathin Chibar Dan, Shibli Puja, Aushta Upakaran Dan of the indigenous communities and the durga puja are performed in the district. Besides, many folk festivities are performed on the occasion of Chaitra Samkranti, New Years's Day, Halkhata, Punnah, Nabanna, Poush Parvana, Anna Prashana etc. The indigenous communities of the district perform various kinds of folk dances including Mayur (peacock) dance, Jele (fishermen) dance, Sapure (snake charmer) dance, Bhaiya dance, Bottle dance, Plate dance, and Bansh (bamboo) dance, etc.
Tourist spots and important installations World Peace Pagoda (Hathazari), Karaldanga Hill (Boalkhali), Haludia Prantik Lake (Satkania), Batali Hill, War Cemetery, Parki Sea Beach (Anowara), Patenga Sea Beach, Marine Academy, Eco-park and Botanical Garden, Chandranath Hill, Mahamoni Mandir (Raozan), Chakma Rajbari, Buddha statue of the Pala period at Betagi (Rangunia), Bronze Statue (Anowara), Musa Khan Mosque (1658), Kadam Mubarak Mosque (1719), Andar Killah Mosque, Wali Khan Mosque (1790), Badar Awliya Dargah, Bakhshi Hamid Mosque (Banshkhali, 1568), Chittagong University (1893), Ethnological Museum (1974), Foy's Lake (Pahartali), Chhuti Khan Mosque, Mazar of Hazrat Shah Amanat (R), Mazar of Baro Awliya (Sitakunda), Sitakunda Shankar Math, Dharmo Chakro Buddho Vihara, Koriya Nagar and Sonakania Buddha Viharas. [Jasim Uddin Harun]'
See also The upazilas under this district.
References Bangladesh Population Census 2001, Bangladesh Bureau of Statistics; Cultural survey report of Chittagong District 2007; Cultural survey report of Upazilas of Chittagong District 2007.