Chittagong University Museum
Chittagong University Museum was established on 14 June 1973 with a small collection handed over by the Department of History of the University. Now its objects extended and cover more than thousand years of the history of Bangladesh. It started with a fish fossil from the Nasirabad hills in Chittagong and includes antiquities from the celebrated sites of mainamati, mahasthan and paharpur along with ancient and medieval coins, inscriptions, manuscripts, sculptures, terracotta, arms and armament, textiles, metalwork, porcelain, jewellery, other minor works of art and folk art. The archive of the museum is also enriched with many posters, pamphlets, newspaper clippings, publications, and documents of the liberation war of Bangladesh collected from home and abroad.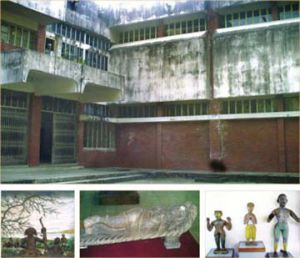 There is a reference section in the library, which contains books and journals to assist researchers in iconography, epigraphy, numismatics, architecture, minor, and folk arts, and other cultural properties. Initiatives were also taken to set up a research resource centre and a conservation laboratory.
Classified illustrations of the museum collection are now on display in four galleries on the first floor of the museum building. A gallery of modern art temporarily occupies the space for an organized store.   
The museum has also pitched many special exhibitions and organized seminars on subjects related to its academic interest. It has published standard catalogues of coins and exhibitions, proceedings of lectures; and a descriptive catalogue of stone sculptures is now in the press. The surrounding of the museum building is thoughtfully laid with trees and flowerbeds along with an open-air stage facilitated with a spectator-gallery. [Shamsul Hossain]