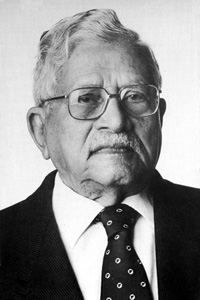 Chowdhury, Hamidul Haq (1901-1992) lawyer, media magnet and politician. Hamidul Haq Chowdhury was born in 1901 at village Ramnagar in Daganbhuiyan upazila of Feni district. He passed entrance examination in 1919 from Scotish Church Collegiate School in Calcutta and obtained his graduation from Calcutta Presidency College in 1925. Having obtained his law degree Hamidul Haq joined the Calcutta bar.
Hamidul Haq Chowdhury was elected member of the Bengal Provincial Assembly in 1938. He had active role in the Pakistan Movement. He was a member of the Radcliffe Commission deputed to determine the boundary between India and Pakistan.
After the partition of India, Hamidul Haq came to Dhaka and joined the Dhaka High Court bar. In 1947, he was a member of the provincial cabinet in charge of the Ministry of Finance and then of Ministry of Land Revenue. He started the publication of the Pakistan Observer on 11 March 1949. Hamidul Haq Chowdhury was elected vice president of Krishak Sramik Party of Ak Fazlul Huq in 1953. In 1955, he was elected member of the Pakistan National Assembly as a nominee of the Krishak Sramik Party. He had vital role in the formation of the united front.
He was the minister of Foreign Affairs in the coalition government formed by the United Front and Muslim League in the centre in 1955. He was appointed finance minister in the cabinet of Firuz Khan Noon in 1958. Hamidul Haq Chowdhury was the treasurer of the Pakistan National Democratic Front (NDF) from 1964 to 1969. He joined the Round Table Conference convened by President Ayub Khan at Rawalpindi as a representative of NDF.
Hamidul Haq Chowdhury opposed the Bangladesh War of Liberation in 1971. He went to West Pakistan sometime before the emergence of Bangladesh. The Bangladesh government annulled his citizenship in 1972. He was however allowed to return to Dhaka by the then government in 1978. He died in Dhaka on 18 January 1992. [Md Azom Baig]