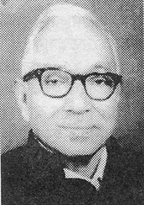 Chowdhury, Kafiluddin (1898-1972) lawyer, politician. He was born in 1898 at village Dayhata Majidpur in Srinagar upazila of Munshiganj district. He got his early education in the local pathsala, and passed his Matriculation from the nearby Hasara Kalikishore High School. He continued his education in Kolkata and obtained the BA and LLB degrees.
Kafiluddin Chowdhury started his legal profession in the subdivisional court of Munshiganj, but soon moved over to Dhaka where within a short time he established himself in the profession. He also involved himself in social and political activities. He joined the krishak praja party of ak fazlul huq and led the party activities in the then Dhaka district. In the 1930s he was the vice chairman of the District Board. He played active role in the Pakistan movement as the vice president of the district Muslim League.
On the eve of the 1954 provincial assembly elections in East Bengal he was made the vice president of the krishak sramik party. When the united front was formed, he along with Ataur Rahman Khan worked as the joint secretaries of the Front, and he played important role in the formulation of the Twenty-one Points of the United Front.
In the 1954 elections, Kafiluddin Chowdhury was elected to the provincial assembly from the Srinagar-Sirajdikhan constituency. He was made a minister of the United Front Provincial Government and served tenures in the ministries of Law, Forest, Roads and Communication, and Land. During his tenure in the communication ministry, the plans for the Dhaka'Khulna Road and Dhaka'Mymensingh Road were finalized, and the completion of the Shovapur bridge facilitated the direct road link between Dhaka and Chittagong.
After Ayub Khan's proclamation of Martial Law, he was put into prison and debarred from taking part in any elections. Till the elections of 1970, he devoted himself to legal practice and in building industrial units, such as Faves Cold Storage Insulation Factory at Tangibari and Broad Burlops Jute Mill.
His last stint in politics was his election to the National Assembly in 1970. During the war of liberation in 1971, he along with his son badruddoza chowdhury, later President of Bangladesh, crossed over to India and took active part in it. But towards the end of November he had a heart attack and came back to independent Bangladesh on 31 January 1972 in a very bad state of health. He breathed his last on 12 May 1972.
Kafiluddin Chowdhury was always very keen to help poor students of his locality and he founded a High School, Kafiluddin Chowdhury Institute, in his own village. [AM Chowdhury]