Chowdhury, Motaher Hossain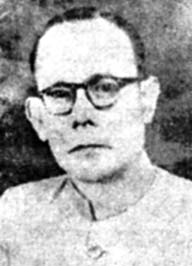 Chowdhury, Motaher Hossain (1903-1956) educationist and writer, was born in Kavchanpur village of noakhali district. He matriculated from Comilla Yusuf High School and completed his IA and BA from comilla victoria college. He then joined Yusuf High School as an assistant teacher. He passed his MA in Bangla in 1943 and joined Islamia College, Kolkata, as a lecturer in 1946. He moved to Chittagong in 1947 after partition. He joined chittagong college the same year and continued to work there until 1956.
Motaher Hossain Chowdhury was a liberal thinker and humanist and was actively associated with the muslim sahitya samaj. A number of his essays such as 'Amader Dainya', 'Adeshpanthi O Anupreranapanthi', and 'Mussalman Sahityikder Chintadhara', were read at the annual meetings of the literary society. His essay entitled 'Rabindranath O Vairagyavilas' was published in the fifth volume of the shikha.
Motaher Hossain was influenced by rabindranath tagore as well as by pramatha chowdhury. Among his writings are Sangskrti Katha (1958), Sukh (1965) based on Bertrand Russell's Conquest of Happiness, and Sabhyata, based on Clive Bell's Civilization. Motaher Hossain Chowdhury died on 18 September 1956 in Chittagong.  [Shafiul Alam]