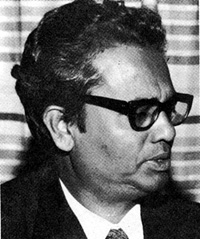 Chowdhury, Munier (1925-1971) educationist, playwright, literary critic, was born on 27 November 1925 in the town of manikganj. His ancestral home was in noakhali district. His father, Khan Bahadur Abdul Halim Chowdhury, was a district magistrate. In 1941 Munier Chowdhury matriculated from Dhaka Collegiate School. After completing his ISc from Aligarh Muslim University, he enrolled himself at dhaka university and completed Honours (1946) and MA (1947) in English. In 1954 he completed a second MA degree in Bangla and in 1958 obtained an MA in Linguistics from Harvard University.
Munier Chowdhury taught for some time at b l college in khulna (1947-1950) and at jagannath college (1950). He then joined Dhaka University (1950-1971), teaching in both the English and Bangla departments. He was associated with leftist politics and progressive cultural movements. In 1948 he attended the Communist Party Conference in Kolkata. Towards the end of the year he was elected Secretary of the Pragati Lekhak O Shilpi Sangha (Progressive Writers and Artists Association).
In 1952 he was arrested under the Preventive Detention Act for protesting against police repression and the killing of students on 21 February 1952. He remained in detention until 1954. While in jail he sat for the MA examination in Bangla, topping the list of successful candidates. In detention, he wrote a one-act play, Kabar (1953), based on the language movement. Considered to be his best play, Kabar was staged inside the jail, with prisoners playing different parts. He was also imprisoned on two other occasions.
Munier Chowdhury was a staunch nationalist and stood up against all forms of cultural repression. In 1967 he protested against the Pakistan government's directive to ban tagore songs on Radio and TV. He also protested against the move to reform the Bangla alphabet. Munier Chowdhury was associated with all contemporary national movements. He declared his solidarity with the non-cooperation movement called by bangabandhu sheikh mujibur rahman in March 1971 and renounced the title of Sitara-i-Imtiaz which he had received in 1966.
Munier Chowdhury achieved literary success chiefly as a progressive writer. He started by writing short stories, but his main interest was in writing plays, especially one-act plays. As in his short stories, his one-act plays are about the disparities and aberrations in contemporary social life as well as about the common humanity which unites all human beings. Twelve of his one-act plays have been compiled in Kabar (1966), Dandakaranya (1966) and Palashi Barrack O Anyanya (1969).
Raktakta Prantar (1959), which is set during the time of the Third Battle of Panipat, is inspired by the feelings of a common humanity which rises above wars and communal strife. Another of his plays, Chithi (1966), exposes the selfishness and autocratic attitude of people in the name of popular movements. His plays, like western absurdist drama, successfully combine serious themes with lively dialogue and humour. Munier Chowdhury also translated a number of foreign plays into Bangla. He also acted and directed plays for the stage, radio, television and cinema. He was awarded the Bangla Dcademy Prize (1962) and the Daud Prize (1965) for his plays. In 1989, Theatre introduced the Munier Chowdhury Award in his honour.
Munier Chowdhury was also a perceptive literary critic, as evidenced from his two books Mir-Manas (1965) and Tulanamulak Samalochana (1969). His book Babgla Gadyariti (1970) discusses contemporary bangla prose of East Bengal. Munier Chowdhury also devised a Bangla keyboard for typewriters (1965), known as Munier Optima.
Just two days before the end of the liberation war, he was kidnapped from his residence in Dhaka and killed by anti-liberation force. [Anupam Hayat]