Chowdhury, Muzaffar Ahmed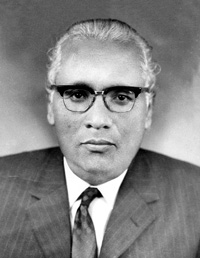 Chowdhury, Muzaffar Ahmed (1922-1978) educationist, political thinker. Muzaffar Ahmed Chowdhury was born at village Birahimpur in Noakhali district on 23 November 1922. His father Maulvi Obaidullah was the Head Maulana of Basikpur Madrasa. Muzaffar Ahmed passed Matriculation examination in 1938 from Farashganj High School in Noakhali, IA from Feni College in 1940, and obtained BA (Hons) and MA degree in Political Science from Dhaka University in 1943 and 1944 respectively. He obtained his PhD degree from London University in 1960.
Muzaffar Ahmed Chowdhury joined the Dhaka University as a Lecturer in Political Science in 1945. He was the Proctor of the University during 1950-1952. He became Reader in 1961 and Professor in 1969.
Muzaffar Ahmed Chowdhury actively participated in the language movement. In a meeting of the teachers of the university held on 23 February 1952, he vehemently protested against police firing and killing of students on 21 February and criticised the repressive policy of the government. Consequently, he was arrested under Safety Act, and was released on 5 May 1953.
Muzaffar Ahmed was a constitutional adviser to the Constituent Assembly of Pakistan from October 1955 to February 1956, and had been a representative of Pakistan to the general assembly of the United Nations Organisation (UNO) from November 1956 to February 1957.
Muzaffar Ahmed actively participated in the mass upsurge against the autocratic rule of Ayub Khan in 1969, and thus made himself associated with the awami league  politics.
He was the political adviser to Bangabandhu Sheikh Mujibur Rahman from February 1969 to March 1971, and attended the Round Table Conference convened by President Ayub Khan at Rawalpindi (1969) as an adviser to the Awami League delegation. During the War of Liberation in 1971, he was the chief of the planning cell of the Mujibnagar Government. Muzaffar Ahmed Chowdhury was appointed Vice Chancellor of Dhaka University in January 1972. In April 1973, he was appointed chairman of the University Grants Commission. He was included in the cabinet of Bangabandhu Sheikh Mujibur Rahman in 1975 as Minister of Education. Muzaffar Ahmed joined the bangladesh krishak sramik awami league (BAKSAL) in 1975, and was made a member of its executive committee. He was also a member of the cabinet of President Khondakar Mostaq Ahmad and was in charge of the Ministry of Education. He was, however, relieved from the charge of the ministry (November 1975) after General Ziaur Rahman assumed state power. He then resumed his service in the Dhaka University.
Muzaffar Ahmed Chowdhury has authored a number of books. These include The Civil Service in Pakistan (1963), Constitutional Problems of Pakistan, An Examination of the Criticisms against Bureaucracy (1964), Government and Politics in Pakistan (1968), The Political Systems of Modern States, England, USA, France, USSR and Germany, Rural Government in East Pakistan (1969), The Specialists in Government.
Muzaffar Ahmed Chowdhury died in Dhaka on 17 January 1978. [Mahfuzur Rahman Sarker]