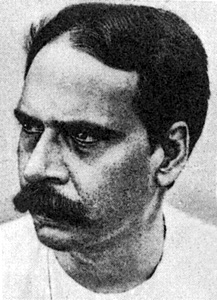 Chowdhury, Pramatha (1868-1946) litterateur, essayist, and one of the architects of chalita bhasa, was born on 7 August 1868 in jessore, son of Durgadas Chowdhury. His parental home was at Haripur in pabna. He passed the Entrance examination from Calcutta Hare School and FA from St. Xaviers' College. He stood first class first both in BA (1889) honours in Philosophy and MA (1891) in English. He was also fluent in French. He went to England (1893) to study for the Bar. After becoming a barrister he returned home and joined the Calcutta High Court. He married indira devi chowdhurani (1891), a daughter of satyendranath tagore.
Pramatha Chowdhury served variously as lecturer at Law College, manager of the Tagore Estate and the Dakshineshwar Devottar Estate, but he was more interested in literary pursuits, either editing and publishing journals or writing. He edited and published the monthly journal sabujpatra, which introduced and popularised chalita prose, and promoted a host of writers, including rabindranath tagore. Many satirical essays of Pramatha Chowdhury, under the pseudonym 'Birbal', were also published in this journal. He also edited other journals such as the Viœva-Bharati (quarterly) and Alaka (monthly).
He was vice president (1938-39) of the vangiya sahitya parishad and president of the All-India Bangiya Sahitya Sammelon in Delhi (1926) and the Krishvanagar Babgiya Sahtiya Sammelon. Apart from essays, he also wrote poems and short stories. Among his books are Tel Nun Lakdi (essays, 1906), Sonnet Pavchashat (poems, 1913), Char Yeari Katha (short stories, 1916), Birbaler Halkhata (essays, 1917), Nana Katha (essays, 1919), Padacharan (1919), Ahuti (short stories, 1919), Amader Shiksa (essays, 1920), Birbaler Tippani (essays, 1921), Rayater Katha (essays, 1926), Pramatha Chowdhurir Granthavali (1930), Nana Charcha (essays, 1932), Nila Lohit (short stories, 1341), Nil Lohiter Adi Prem (short stories, 1341), Ghare Baire (essays, 1936), Prachin Hindustan (essays, 1939), Galpa Sanggraha (1941), Atmakatha (1946), The Story of Bengali Literature (1946), Tales of Four Friends (with Indira Devi, 1944).
Pramatha Chowdhury was awarded the Jagattarini Gold Medal (1938) by Calcutta University. Pramatha Chowdhury died on 2 September 1946. [Badiuzzaman]