Chuadanga District (khulna division) area 1177.40 sq km, located in between 23°22' and 23°50' north latitudes and in between 88°39' and 89°00' east longitudes. It is bounded by kushtia and meherpur districts on the north, jhenaidah district on the south and east, Meherpur district and west bengal state of India on the west.
Population Total 1007130; male 518188, female 488942; Muslim 979612, Hindu 25500, Buddhist 1701, Christian 51 and others 266.
Water bodies Main rivers: Mathabhanga, bhairab, chitra, nabaganga, kumar; noted beels are: Vandardaha, Ujalpur, Maheshwari, Nehalpur, Jajari, Nurullahpur, Begumpur and Chandpur baors are also notable.
Administration Chuadanga sub-division was a part of Nadia district before the Partition of India. In 1947, excepting Krishganj thana, the whole territory of Chuadanga sub-division was included in Kushtia district. It was turned into a district in 1984.
District
Area (sq km)
Upazila
Municipality
Union
Mouza
Village
Population
Density (per sq km)
Literacy rate (%)
Urban
Rural
1177.40
4
4
31
364
514
275484
731646
855
40.88
Others Information of District
Name of upazila
Area (sq km)
Municipality
Union
Mouza
Village
Population
Density (per sq km)
Literacy rate (%)
Alamdanga
380.38
1
13
126
203
308917
812
39.96
Chuadanga Sadar
289.59
1
7
90
129
278726
962
40.08
Jiban Nagar
199.32
1
4
70
80
164208
824
42.28
Damurhuda
308.11
1
7
78
102
255279
829
42.00
Source Bangladesh Population Census 2001,Bangladesh Bureau of Statistics.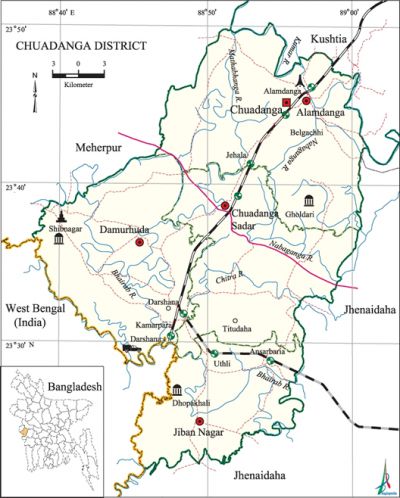 Archaeological heritage and relics Gholdari Jami Mosque (Alamdanga), Chuadanga Bara Mosque, three domed Dhopakhali Mosque, Thakurpur Mosque (1698), Mazars and mosque of four pirs' at Shibnagar, Mazar of Paresh Shah, Jamjami Mosque, Tiyorbeela Mosque, Sonatanpur Temple, Jagannathpur Temple, Gholdari Neelkuthi, Karpasdanga Neelkuthi.
Historical events From the beginning of the British rule the people of Chuadanga participated in many uprisings and democratic movements. Their contributions to uprisings and movements including the wahabi movement (1831), faraizi movement (1838-47), sepoy revolt (1857), Indigo Rebellion (1859-60), swadeshi movement (1906), khilafat movement (1920), non cooperation movement, Violation of Law and Satyagraha Movements (1920-40), Quit India Movement or August Revolt (1942), peasant movements and Freedom Movement are notable. During the war of liberation in 1971 early resistance was put up in Chuadanga. During the War of Liberation more than one hundred direct encounters were held between the Pak army and the freedom fighters in Chuadanga district. In 1971 a number of razakars and Pak soilders were killed or wounded in frontal encounters with the freedom fighters at Baliapur and Benagari villages. Ten Pak soldiers were killed at Shialmari in between Jiban Nagar and Darshana by mine explosion planted by the freedom fighters. Besides, 5 freedom fighters were killed and 2 were wounded in an encounter with the Pak army on the Dhopakhali border. The Pak army brutally killed many people and set many houses on fire at village Madna of Damurhuda upazila. During the War of Liberation in 1971 the present Chuadanga Sadar Hospital was the headquarters of the Pak army. The Pak army brutally killed about 300 innocent persons at the backyard of the Hhspital (present Shantipara). Besides, the Pak army destroyed part of a bridge on the river Mathabhanga while they retreated from Chuadanga.
Marks of the War of Liberation Mass killing site 1 (a spot behind the Chuadanga Sadar Hospital); mass grave 3 (places on the back of the Natudaha High School, at village Dhopakhali near the Jiban Nagar border and on the bank of G.K Canal near Alamdanga Railway Station); memorial monument 3.
Literacy rate and educational institutions Average literacy 40.08%; male 43.38%, female 36.61%. Educational institutions: college 12, vocational training college 1, nursing institute 1, secondary school 117, primary school 259. Noted educational institutions: Chuadanga Government College (1962), Darshana Government College (1969), Chuadanga Municipal College (1983), Chuadanga Ideal Girls' College (1983), Jiban Nagar College (1984), VJ (Victoria Jubilee) Government High School (1880), Natudaha Secondary School (1906), Damurhuda Pilot High School (1913), Alamdanga Multilateral Pilot Secondary School (1914), Memnagar BD Secondary School (1916), Kuralgachhi Secondary School (1923), Hatboalia High School (1925), Kalabari-Ramnagar Secondary School (1926), Munsiganj Academy (1935), Karpasdanga Secondary School (1940), Osmanpur Pragpur Madrasa (1949), Kunia-Chandpur Madrasa (1958), Badarganj Alia Madrasa (1964).
Main sources of income Agriculture 65.14%, non-agricultural labourer 2.99%, industry 1.40%, commerce 14.24%, transport and communication 3.46%, service 5.57%, construction 1.28%, religious service 0.15%, rent and remittance 0.39% and others 5.38%.
Newspapers and periodicals Daily: Mathabhanga, Pratham Rajdhani; weekly: Chuadanga Darpan, Chuadanga Samachar, Din Badaler Kagaj.
Folk culture Murshidi, Marfati, Baul songs, Jatra, Bhab song, Bhasan song, Kavigan, songs of Manik Pir, peasants' song, Gazir Geet, etc are notable. [Rajib Ahmed]
See also The upazilas under this district.
References Bangladesh Population Census 2001, Bangladesh Bureau of Statistics; Cultural survey report of Chuadanga District 2007; Cultural survey report of Upazilas of Chuadanga District 2007.