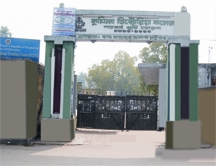 Comilla Victoria College was founded by Roy Bahadur Ananda Chandra Roy in 1899 and named after Queen Victoria. Mr Satyandra Nath Basu was its first principal. Until 1947, the college was affiliated to Calcutta University. Between 1925 and 1947 it offered three-year honours programmes in English, Mathematics, Sanskrit, Political Science, Economics and Arabic. The college introduced Bachelor of Science courses in 1942 and Bachelor of Commerce courses in 1956. The college was nationalised in 1968. In 1984-85, it became a postgraduate college. Honours courses in five more subjects were introduced in 1971-72. Masters Programme in Bangla and Economics started in 1973. In 1996, the college had honours courses in 16 subjects.
Earlier in 1962-63, the degree section of the college was shifted to its new campus at Dharmapur, which is three kilometers away from the old campus at Ranir Dighi. The old campus now houses the offices of the principal and vice-principal, teachers' room, principal's residence, gymnasium, auditorium, library, and science laboratories. The new campus has four new buildings and these are used for academic activities.
At present, the college has 18,000 students and 130 teachers, Honours courses in 18 subjects and Masters courses in 16 subjects. It has five dormitories - four for boys and one for girls. About one thousand students reside in these dormitories.
Comilla Victoria College has produced a large number of scholars, teachers, civil servants, physicians, engineers, politicians and social' activists. Many students and teachers of the college took part in the war of liberation. Students of this college now take part in Rover Scouting and Bangladesh National Cadet Corps (BNCC) activities. They also take part in inter-college tournaments and competitions. [Golam Kibria Bhuiyan]