Companiganj Upazila (Sylhet District)
Companiganj Upazila (sylhet district) area 278.55 sq km, located in between 24°58' and 25°11' north latitudes and in between 91°41' and 91°53' east longitudes. It is bounded by Meghalaya (state of India) on the north, sylhet sadar, gowainghat and chhatak upazilas on the south, Gowainghat upazila on the east and Chhatak upazila on the west.
Population Total 113784; male 59758, female 54026; Muslim 104200, Hindu 9522 and others 62. Indigenous communities such as khasia, manipuri belong to this upazila.
Water bodies Main rivers: surma and piyain; noted baors: Baowa, Lali, Loba, Poko; noted beels: Panichhapara, Nigar, Rauti and Kalenga.
Administration Companiganj Thana was formed in 1976 and it was turned into an upazila in 1983.'
Upazila
Municipality
Union
Mouza
Village
Population
Density (per sq km)
Literacy rate (%)
Urban
Rural
Urban
Rural

-

6

74

138

10423

103361

408

27.24

22.30
Upazila Town

Area
(sq km)

Mouza

Population

Density
(per sq km)

Literacy rate (%)

9.21

1

10423

1132

27.24
Union
Name of union and GO code
Area (acre)
Population
Literacy rate (%)
Male
Female




Islampur Paschim

7811

15007

13316

26.92

Islampur Purba

9166

11439

10435

29.44

Ishakalas

12390

7141

6510

31.28

Telikhal

9545

10363

9408

19.66

Ranikhai Uttar

10736

7691

7249

16.54

Ranikhai Dakshin

14584

8117

7108

19.41



Source Bangladesh Population Census 2001, Bangladesh Bureau of Statistics.
History of the War of Liberation During the war of liberation in 1971 Companiganj upazila was under Bholaganj sub-sector of sector 5. About 19 freedom fighters of the upazila were killed in encounters with the occupation Pak army.'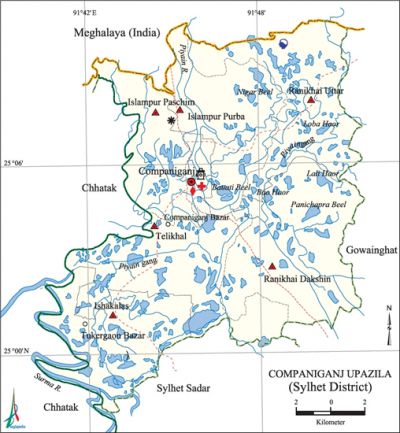 Marks of the War of Liberation Memorial monument 2.
Religious institutions Mosque 255, temple 22, tomb 4.
Literacy rate and educational institutions Average literacy 22.75%; male 27%, female 18.03%. Educational institutions: college 2, secondary school 14, primary school 54, community school 10, kindergarten 7, madrasa 18. Noted educational institutions: M. Saifur Rahman College, Vatrai High School (1957), Parua Noagaon Dakhil Madrasa (1965).
Cultural organisations Club 14, library 1, cultural organisation 2,' playground 2, women's organisation 12.
Main sources of income Agriculture 60.81%, non-agricultural labourer 12.81%, industry 0.57%, commerce 15.01%, transport and communication 0.86%, service 1.71%, construction 0.36%, religious service 0.27%, rent and remittance 1.18% and others 6.42%.
Ownership of agricultural land Landowner 50.89%, landless 49.11%; agricultural landowner: urban 42.39% and rural 51.80%.
Main crops Paddy, mustard, cassia leaf, betel leaf.
Extinct or nearly extinct crops Tobacco, ganja (hemp).
Main fruits Orange, mango, jackfruit, pineapple, lemon, satkora, betel nut.
Fisheries, dairies and poultries This upazila has a number of fisheries, dairies and poultries.'
Communication facilities Roads: pucca 41.15 km, mud road 267 km; waterways 10 nautical miles; culverts 104; bridges 55.
Extinct or nearly extinct traditional transport Palanquin, bullock cart.
Noted manufactories Welding factory.
Cottage industries Goldsmith, blacksmith, potteries, weaving.
Hats, bazars and fairs Hats and bazars are 20, fairs 3, most noted of which are Companiganj Bazar, Islamganj Bazar, Tukergaon Bazar and Parua Bazar.
Main exports Orange, fish, stone, limestone.
Access to electricity All the unions of the upazila are under rural electrification net-work. However 5.76% dwellings have access to electricity.
Natural resources Stone, limestone.
Sources of drinking water Tube-well 70.61%, tap 0.84%, pond 15.24% and others 10.30%. The presence of arsenic in an intolerable level has been detected in the shallow tube-well water of the upazila; its rate is 12.5%.
Sanitation 11.48% (urban 33.20% and rural 9.16%) of dwelling households of the upazila use sanitary latrines and 60.97% (urban 55.49% and rural 61.56%) of dwelling households use non-sanitary latrines; 27.54% of households do not have latrine facilities.'
Health centres Upazila health centre 1, family planning centre 3, satellite clinic 1.
NGO activities CARE, brac, VARD, Simantik. [Jayanta Singh Roy]
References Bangladesh Population Census 2001, Bangladesh Bureau of Statistics; Cultural survey report of Companiganj Upazila 2007.