Cox's Bazar District (chittagong division) area 2491.86 sq km, located in between 20°43' and 21°56' north latitudes and in between 91°50' and 92°23' east longitudes. It is bounded by chittagong district on the north, bay of bengal on the south, bandarban district, arakan (Myanmar) and the naf river on the east, the Bay of Bengal on the west. The longest sea beach of the world belongs to Cox's Bazar. It is the seventh largest district of the 11 districts of Chittagong division and holds the 26th' position among the 64 districts of Bangladesh. Almost half of the total area of the district represents the hilly region and the other half is the coastal islands. Main offshore islands of the district are maheshkhali, kutubdia, Matarbari, Sonadia, Shah Pari and st martin's island or Jinjira. Recently the Shah Pari Island has been joined with the main land. Since it is a coastal district, the area of Cox's Bazar changes to bigger or smaller due to erosion resulting in the formation of islands and char.
District
Area (sq km)
Upazila
Municipality
Union
Mouza
Village
Population
Density (per sq km)
Literacy rate (%)
Urban
Rural
2491.86
8
4
71
189
984
272395
1501314
712
30.18
Others Information of District
Name of upazila
Area (sq km)
Municipality
Union
Mouza
Village
Population
Density (per sq km)
Literacy rate (%)
Ukhia
261.80
-
5
13
54
155187
593
28.8
Cox's Bazar Sadar
228.23
1
10
18
163
348075
1525
39.7
Kutubdia
215.80
-
6
9
30
107221
494
28.4
Chakaria
643.46
1
২০
66
335
৫০৩৩৯০
৭৮২
32.03
Teknaf
388.68
1
৬
১৩
১৩১
200607
516
24.04
Pekua
139.68
-
7
11
63
201180
1440
17.26
Maheshkhali
362.18
1
9
31
170
256546
708
22.5
Ramu
391.71
-
11
39
101
202683
517
26.0
Source Bangladesh Population Census 2001, Bangladesh Bureau of Statistics.
Population Total 1773709; male 927196, female 846513; Muslim 1648211, Hindu 87123, Buddhist 1722, Christian 35737 and others 916.
Weather The district having been a coastal region often becomes victim to sea storm, tidal bore, hurricane and cyclone. Temperature: maximum 32.5' Celsius, minimum 14.8' Celsius; total yearly rain fall is 3333 mm.'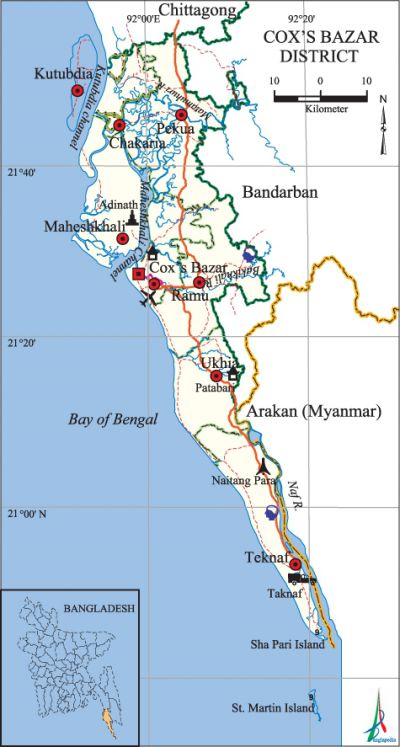 Water bodies Main rivers: matamuhuri, bakkhali and Naf; Maheshkhali channel and Kutubdia channel are notable.
Forests Total forest area: 940.58 sq km; main forests consists of Phulchhari Range, Bhumaria-ghona Range, Meher-ghona Range, Bak Khali Range.
Hill ranges The Arakan hill ranges extends towards the southern side of the Himalaya through the eastern part of the district. So the district has more hilly areas.
Administration Cox's Bazar thana was established in 1854 and Cox's Bazar subdivision was formed comprising the Cox's Bazar Sadar, Chakaria, Maheskhali and Teknaf thanas. Afterwards three new thanas were constituted under this subdivision such as ukhia emerging from Teknaf, Kutubdia from Maheshkhali and ramu from Cox's Bazar. The Cox's Bazar town was turned into a town committee in 1959. In 1972 the town committee was abolished and it was turned into a municipality. Under the administrative decentralisation programme, in the first phase, all the thanas were transformed into upazilas and in the second phase Cox's Bazar subdivision was elevated to a district on 1 March 1984. Of the 7 upazilas of the district Chakaria is the biggest (643.46 sq km) covering about 25.82% of the total area of the district; Pekua is the smallest upazila having an area of 139.68 sq km.'
Historical events The Arab traders abd oreachers came to the ports of Chittagong and Akiab in the eighth century AD and consequently the Arab Muslims came in close contact with Cox's Bazar area situated between the two ports. The greater Chittagong including Cox's Bazar was under the rule of Harikela king Kantideva in the nineth century. The Arakan king Sulat Inga Chandra (930-975) captured Chittagong in 953 AD and since then Cox's Bazar had been a part of the kingdom of Arakan. Chittagong remained part of the kingdom of Arakan till its conquest by the Mughals in 1666 AD. The Mughal general Buzurg Umed Khan captured the Magh Fort on the southern bank of the Karnafuli and the Arakanese took shelter in the Ramu Fort which was later surprised by the Mughals. The East India Company, with a view to establish settlement in Cox's Bazar area, took a liberal policy of distributing land to the cultivators and this encouraged people from different parts of Chittagong district and from Arakan to settle in Cox's Bazar area. The Burmese king Bodhapaya (1782-1819) captured Arakan in 1784 AD. About thirty thousand Arakanese escaped the atrocities of the Burmese king to Cox's Bazar area in 1799 AD. The East India Company deputed one Captain Hiram Cox to arrange for the rehabilitation of the refugees (1799). Each refugee family was granted 1 hectare (2.472 acre) of land and 26 maunds of food grains as food support for six months. Hiram Cox died (1799) before completion of the rehabilitation work. To commemorate his role in rehabilitation work a market was named after him as Cox's Bazar (market of Cox) which originates the name of the place. During the war of liberation in 1971 the Pak army killed 13 persons of Chakaria and they also set many houses and shops on fire. During this time the Pak army established military camp in the Teknaf Dakbungllow and killed about 250 innocent people of Ramu, Ukhia and Teknaf upazilas.
Marks of the War of Liberation Memorial monument 3; mass killing site 1.
Religious institutions Mosque 1626, temple 212, Buddhist keyang and pagoda 162, church 8, tomb 12.'
Literacy rate and educational institutions Average literacy 30.18%; male 34.01%, female 26%. Educational institutions: college 20, pali college 2, law college 1, technical college 1, vocational training institute 1, Primary Teachers (Training) Institute 1, secondary school 141, primary school 561, community primary school 39, NGO operated primary school 23, madrasa 240. Noted educational institutions: Cox's Bazar Government College (1962), Chakaria College (1968), Maheshkhali College (1985), Cox's Bazar Government High School (1874), Ramu Khejari Government High School (1919), Chakaria Government High School (1919), Idgaon Ideal High School (1928), Kutubdia High School (1938), Cox's Bazar Government Girls' High School (1960), Manikpur Burmese Primary School (1828), Herbang Government Primary School (1884), Teknaf Government Primary School (1890), Pekua Government Primary School (1918), Maizpara Government Primary School (1930), Maheshkhali Government Vernacular School (1923), Saharbil Anwarul Ulum Senior Madrasa (1918).
Main sources of income Agriculture 49.84%, non-agricultural labourer 7.92%, industry 1.04%, commerce 17.39%, transport and communication 2.56%, construction 1.19%, religious service 0.27%, service 5.96%, rent and remittance 1.84% and others 11.99%.
Newspapers and periodicals Daily: Saikat, Cox's Bazar, Ajker Desh-bidesh, Dainandin, Mayer Desh; weekly: Swadesh Bani, Kutubdia, Chakori, Swadesh Kantha; fortnightly: Mehdi; defunct: Daily Himchhari, Daily Bak-khali, Weekly Cox's Bazar, Weekly Cox's Bazar Barta, Weekly Sagar Bani, Weekly Sagar Kantha, Weekly Naf kantha.
Folk culture Achartak festival (water game) of the rakhain on the occasion of New Years celebration, Mela (fair) on the last night of the month of Magh (BS), Suryakola Mela, Maghi Purnima of the Buddhist community, Baishaki Purnima, Svargapuri festival at Ashkar Katha. Bali Khela (dual) is one of the popular folk games' of the district.
Tourist spots COX'S BAZAR Sea Beach, Himchhari Water Fall, Inani Sea Beach, Sonadia Island, KUTUBDIA BATIGHAR (light house), St. Martin's Island, Bangabandhu Safari Park (Dula Hazra), Mathiner Kup (Mathine's well) at Teknaf, Maynak Hill and Adinath Mandir (Maheshkhali Island), Mazar of Kutub Aoulia (Kutubdia), Ramkot Hindu Mandir, Ramkot Buddhist Keyang, Kanabazar Suranga (under ground channel), Dighi of Bir Kamala (Teknaf), Agnamedha Buddhist Keyang, Thoinga Chowdhury Keyang (Ramu), biggest' Buddha statue on the Nathong Hill and the landing station of the Sub Marine Cable at Jhelangja.
Mineral resources Natural gas, sulphur, zircon, ilmenite, kyanite, brutile, magnetite, monazite. [Mohammad Mahibbullah Siddiqi]
See also The upazilas under this district.
References Bangladesh Population Census 2001, Bangladesh Bureau of Statistics; Cultural survey report of Cox's Bazar District 2007; Cultural survey report of Upazilas of Cox's Bazar District 2007.