Cricket a game of bat and ball played between two teams on an oval-shaped field with a 22-yard pitch at the centre. Each team consists of eleven players. Captains of both teams choose their role either in the fielding side or the batting side through a toss held in presence of the umpire. Three umpires, two in the field and one outside and a match referee conduct a match. The third umpire gives decision by watching TV replay if any confusion arises and he is asked for that.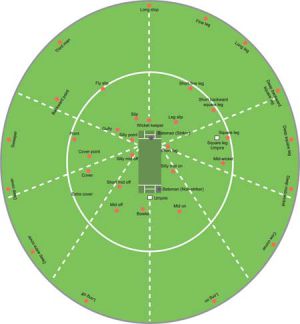 A cricket bat is long and flat, length and width of which are maximum 38 and 4.5 inches respectively. The height of the stamps from the ground is 27 inches. Globally, the perimeter of a standard cricket ball is 250 cm and its weight is about 160 gram. In cricket, the batting side tries to score more runs and the bowling or fielding side, in contrast, strives to prevent batsmen from making runs. Rather they keep constant to make them out.
In a cricket match, victory and defeat of the concerned teams are determined on the basis of score by counting runs or wickets. If the first batting side wins the match, their score is counted by runs. On the other hand, if the other contesting team wins after batting later, the winning score is counted by wickets. If the two contesting team's score are found equal after the limited over, it becomes a tie. At present, a cricket match is held as a 50-over one-day match, a test match of 3 to 5 days and a 20-over T-20 match. In a test match, each team plays two innings under any team itself decides not to play the second after making a very high score in the first. In one-day and T-20, each team plays one innings of 50 and 20 over respectively.
In cricket, a batsman is made 'out' in ten ways. Of them 5 'outs' are very common: bowled, caught, run out, stamped and leg-before-cricket (lbw). The remaining 5 out's are hit out, timed out, obstructing the field, handled the ball and hit the ball twice. However, in the history of test cricket, not a single batsman was given out on charge of timed out and hit the ball twice.
The origin of cricket dates back to 14th century during the reign of king Edward I of England in 1300 AD. The first mention of a cricket match in England was inscribed in a book and the historic Meurlbone Cricket Club (MCC) was founded there in 1787. In the following year MCC published the amended cricket rules. The Calcutta Cricket Club, oldest team of this part of the world, was founded in Calcutta in 1792. The apex body of global cricket, the International Cricket Council (ICC) was established in 1909 with only three primary members, England, Australia and South Africa. At present, the number of ICC member-countries is 105 of which ten countries including Bangladesh are full members and the remaining countries are associate members.
The first test match in the history of Cricket began on 15 March 1877 in Melbourne, Australia. Australia won the match defeating England by 45 runs. Between 1894 and 1914, cricket spread far and wide and the period is also marked by colossal modifications in the game's rule and norms. Later, cricket became popular worldwide. West Indies joined ICC in 1928, New Zealand in 1921, India in 1932, Pakistan in 1952, Sri Lanka in 1981-82, Zimbabwe in 1992 and Bangladesh became full ICC member in 2000. Australia is also the winner of the first ever one-day international cricket match held in 1970-71. Australia defeated England by 5 wickets. In a meeting held on 25-26 June 1973 at Lords, England ICC took a decision to organise a World Cup Cricket match on the regular basis. Accordingly, England hosted the first World Cup Cricket Tournament held in 1975. Since then the World Cup Cricket has been taking place once in every four years and ten World Cup Cricket meets were held upto 2011.
Cricket was introduced in India soon after the British colonial rulers arrived in the sub-continent. The first match in the region took place between Indian Civil Servants and other officials of the Company on 18-19 January 1804. The Parsis, a religious sect of India, established the Oriental Cricket Club in 1848. The Ranji Trophy named after the famous Indian cricketer Ranjit Singji was introduced in 1934. After the partition of India (1947), Pakistan was internally divided into four teams and arranged Quaid-e-Azam Trophy Cricket Tournament. After the independence of Bangladesh, the Cricket Committee of East Pakistan Sports Federation turned into a national body named Bangladesh Cricket Control Board (BCCB). In 1972-73, a Cricket League was held in Dhaka and Chittagong. The first ever Bangladesh National Cricket Tournament began in 1974-75. Local sports associations started organising Cricket Leagues in other regions including Khulna and Rajshahi. After attaining the status a test playing country in 2000, Bangladesh introduced the National Cricket League, a first class domestic league. Other tournaments that were organised later on included National Youth Cricket; Inter-University, College and School Cricket, Shahid Smriti Cricket, Damal Summer Cricket and Star Summer Cricket. Cricket league and other tournaments at district and upazila levels are also being organised regularly. Bangladesh National Cricket team participated in the ICC Trophy the first time in 1979 and won the trophy in 1997. This achievement helped Bangladesh to qualify for the next World Cup meet, held in England in 1999. Earlier in 1997, Bangladesh became a regular member of ICC with the right to play one-day international matches. It attained the status of a test playing nation in 2000. Bangladesh won test match for the first time in 2005 defeating Zimbabwe. Bangladesh also defeated Zimbabwe in the one-day series by 3-2 in the same year. Bangladesh defeated Kenya in a one-day series by 4-0 in 2006 and in 2009; it won the series of both one-day and test in 2009 defeating West Indies. In the homeground in 2010, Bangladesh whitewashed New Zealand in a one-day series. The performance of Bangladesh team in the World Cup Cricket is praiseworthy. Participating for the First time in World Cup in 1999 Bangladesh defeated Scotland and Pakistan and in the 2007 World Cup Bangladesh qualified for the quarterfinal round defeating India and South Africa. Earlier in 1998, Bangladesh not being a test-playing nation, organised the ICC Knock out World Cup and following the success of that tournament, Bangladesh was made a co-organiser of the 10th World Cup Cricket held in 2011. The opening ceremony of the tournament presented before the global audience from the Bangabandu National Stadium acclaimed worldwide fame and consequently Bangladesh has been assigned to organise the next T-20 World Cup in 2014. [Mohammad Zahirul Islam Bhuiyan]