Dengue an acute infectious viral disease found mostly in the tropical countries, mainly in Asia. Dengue viruses belong to the Flaviviridae, a family which contains almost 70 viruses, including those causing yellow fever, and several encephalitides. Epidemics associated with an illness compatible with dengue fever (DF) were first reported in medical literature in 1779 and 1780. In Calcutta, DF was traced in the early nineteenth century. It appeared in epidemic form in 1871-72. Recurrence of epidemic DF at any one location was infrequent. During the Second World War Southeast Asia experienced the co-circulation of multiple dengue virus serotypes and epidemic activities increased at that time. Major epidemics involving hundreds of thousands of people have occurred in the Caribbean (1977-1981), South America (since the early 1980s), the Pacific (1979), as well as Africa. The first outbreak of dengue haemorrhagic fever (DHF) and dengue shock syndrome (DSS) occurred in Manila in 1953-54; by 1975 it was occurring at regular intervals in most countries of Southeast Asia.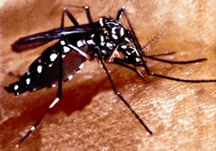 In the 1980s and 1990s the DHF epidemic spread into India, Bangladesh, Pakistan, Sri Lanka, the Maldive Islands and east into China. DHF and DSS are now leading causes of hospital admission and death among children in Asia.
Dengue fever and dengue haemorrhagic fevers are caused by four dengue viruses (DEN 1, 2, 3, and 4) which are closely related antigenically. Infection with one serotype provides life-long immunity to that virus but not to the others. Dengue viruses are maintained in an urban transmission cycle in tropical and subtropical areas; the disease therefore infects people in the cities and viruses are transmitted by the day-time biting mosquito Aedes aegypti, a species closely associated with human habitation. 
In some regions other Aedes species, such as Aedes albopictus and Aedes polynesiensis, are also involved. Mosquitoes become infective about two weeks after feeding and remain so for the rest of their lives.
Clinical symptoms (i) Dengue fever' Dengue virus infections may be asymptomatic or lead to a range of clinical presentations, even death. Typically, DF or the classical dengue, as it is often called is an acute febrile illness characterized by abrupt onset of fever, frontal headache, retrocular pain, nausea, vomiting, and rash. Often conjunctival suffusion and severe backaches occur. The febrile, painful period of DF, lasts 5-7 days, and may leave the patient feeling tired for several more days. Dengue virus disappears from the blood after an average of 5 days, and its departure is closely correlated to the disappearance of fever.
The vast majority of infections, especially in children under 15, are asymptomatic or minimally symptomatic. Skin eruptions are reported in over 50 percent of confirmed cases, and first appear on the limbs and then spread to the trunk. Face, neck and chest may become flushed during the febrile period.

(ii) Dengue haemorrhagic fever  Primarily a disease of children in Southeast Asian countries, DHF is the severe form of dengue fever. In the tropical Americas it is seen in all age groups, and the basic clinical manifestations are similar throughout the age spectrum. DHF commonly begins with a sudden rise in body temperature and other symptoms resembling DF. The temperature is typically high (38-40' C) and continues for 2-7 days. DHF and dengue shock usually develop around the third to seventh day of illness. Symptoms include headache, persistent fever, weakness and severe pain in the joints and muscles. The disease has a mild start, often with symptoms of an upper respiratory tract infection followed by the abrupt onset of shock and subcutaneous haemorrhage and bleeding in the ear.
A progressively decreasing platelet count and a rising haematocrit indicate increased probability of impending shock. DHF patients need good nursing and observation, because the above changes may happen very quickly, putting the patient in a critical condition.
(iii) Dengue shock syndrome 'DSS is a type of DHF with signs of circulatory failure, including narrow pulse pressures, hypotension, or frank shock. The liver may be palpable and tender; and liver enzymes are usually mildly abnormal but jaundice is rare. Sustained abdominal pain, persistent vomiting, restlessness or lethargy, and a sudden change from fever to hypothermia with sweating, and prostration may occur.
Epidemiology The number of countries with epidemic dengue increased sharply during the 1980s and 1990s as new virus strains and serotypes appeared. In 1980, severe disease was rare, but by 1997 DHF had emerged as a disease entity in several major and many minor epidemics in tropical and subtropical countries. According to WHO, worldwide cases of dengue infection are increasing dramatically. About 50 million cases are reported every year. Nearly 5,00,000 patients with DHF infection are hospitalized annually. A very large number of them are children and roughly five percent of the total die. The factors responsible for this global resurgence of DF and the emergence of DHF include unprecedented population growth, unplanned and uncontrolled urbanization, increased air travel, lack of mosquito control, and deterioration, during the past 30 years, of public-health infrastructures.
In Bangladesh dengue is considered as a re-emerging disease. WHO report describes the dengue outburst in this country as 'explosive'. During 1982-83, a survey was conducted among school children in Dhaka metropolis. Altogether, 2465 blood samples were taken of which 278 were found positive serologically against dengue infection. In 1984-86, 21 blood samples were collected from hospitals of Dhaka and were found positive.
In 1997, 27 patients received treatment from Chittagong Medical College Hospital. In 1999, the Institute of Epidemiology, Disease Control and Research (IEDCR) at Mohakhali in Dhaka tested suspected blood samples sent from different districts of Bangladesh and found 98 out of 241 samples positive. According to information sent along with the blood samples, the IEDCR found some DHF cases. Information collected from physicians in Dhaka showed presence of a large number of DHF cases. This is the first time that DHF cases were reported from Bangladesh.
Virologists, doctors and hospital sources indicate that dengue is spreading in Dhaka city at an alarming rate. In the first two weeks of July 2000 at least 75 cases of dengue infection were detected at birdem, dhaka shishu hospital (children's hospital) and Bangabandhu Sheikh Mujib Medical University (BSMMU) Hospital. Seven patients including two children died, six of them at these three hospitals and another at dhaka medical college and hospital. BIRDEM hospital's immunology department detected 31 cases in six days and termed it as a sudden rise. Dhaka Shishu Hospital detected 90 positive cases in the first half of July 2000. The sudden emergence of dengue carrier mosquitoes in a crowded city like Dhaka is a matter of great concern.
Experts on the disease expected that with the advent of the winter season in the closing months of the year 2000 the incidence of dengue would subside. Instead, the infection rate abruptly increased during November-December in Dhaka and its surrounding districts.
Official estimates indicate that at least 90 people died during August-December 2000. However, the unofficial death toll was much higher. In the clinics of Dhaka alone more than 1,000 patients were admitted in November. It is apprehended that the infection will linger in the country and will continue for some time as many cases were reported in 2002 too.
Transmission The mosquito Aedes aegypti is closely associated with human habitation. Larvae are mostly found in artificial containers that may hold water, such as discarded tyres, buckets, flowerpots, wading pools and blocked rain gutters, but they can also be found in natural sites such as tree holes and discarded coconut shells. Adult mosquitoes usually rest in dark indoor sites. The species is day-active, with most biting activity occurring in the early morning or late afternoon. The mosquito becomes infected by a blood meal from a viraemic person and becomes infective after an obligatory extrinsic incubation period of 10-12 days. After the mosquito becomes infective, it may transmit dengue by taking a blood meal, or by simply probing the skin of a susceptible person.
Dengue vector control activity There is yet no effective medicine or vaccine for dengue. It is only the body resistance that can fight it. Normally, the natural immune system can fight the 'classical' virus but the Dengue Haemorrhagic Fever kills the victim. So, the control measures are directed at vector mosquitoes. There is no dengue vector control programme in Bangladesh. Though some sort of mosquito control activities do exist in some metropolises in Bangladesh, it is not really directed against Aedes mosquitoes. Special attention is needed for the control of these mosquitoes, as they are container-breeders; as such, general larviciding will be of no value. Space spraying or fogging in the early morning or late evening may kill some day-biting Aedes mosquitoes.
Control of breeding is not feasible, but citizens should remove abandoned containers, tyres, coconut shells, etc and should drain stagnant water in the vicinity of dwellings. These measures are, however, becoming increasingly difficult to undertake in the slums of the expanding cities. Effective and sustainable prevention must include the individual community's participation in dengue control programmes. [SM Humayun Kabir]
See also mosquito.