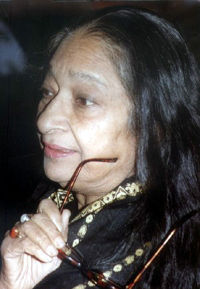 Sumita Devi (1936-2004) actress and filmmaker. She was born in Manikganj district in 1936, and her original name was Hena Bhattacharya, later changed to Nilufar Begum alias Sumita Devi after she got converted to Islam. Sumita was a leading personality of Dhaka film society in the 1960s. She first acted in the feature film Aasia (1957).
Her next film was Akash Ar Mati (1960). Both were directed by fateh lohani. Aasia got the President's Award as the best Bengali film for 1961. Sumita's career in acting spanned for nearly four decades. She acted in the main role in more than fifty feature films and in side roles in more than a hundred. Noted among the films Sumita acted in are Kakhono Aaseni (1961), Kancher Deyal (1963), Edesh Tomar Amar, Sonar Kajal (1962), Ei To Jiban (1964), Dui Diganta (1964), Agun Niye Khela (1967), Abhishap (1967), Behula, Ora Egaro Jan and Amar Janmabhumi.
Sumita Devi also acted in Dhupchaya, a film produced in West Pakistan and in a number of Urdu films made in the then East Pakistan. During her long career in acting she performed roles in radio, television and theatre as well. As a filmmaker Sumita produced five films. These were Agum Niye Khela, Momer Alo, Mayar Sangsar, Adarsha Chapakhana and Notun Probhat.
Sumita Devi first was married to Amulya Lahiri. The marriage, however, did not last long. In 1962, she married zahir raihan and in the same year Sumita Devi was awarded the All Pakistan Critic Award in 1962. In the following year, she got the Nigar Prize in recognition of her performance. After the independence of Bangladesh, she received the Bangladesh Film Journalist Association Award and the Television Reporters Association of Bangladesh Award. Sumita Devi was also honoured with the Agartala Muktijoddha Award (2002) and Janakantha Gunijan and Pratibha Sammanona (2002).
Sumita Devi died on 6 January 2004 and was buried at the Mirpur Martyred Intellectual Graveyard in state honour. [Sambaru Chandra Mohanta]