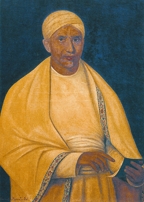 Dey, Ramdulal (1752-1825) the first Bengali entrepreneur becoming a millionaire and internationally linked in business operations. Son of a day labourer of village Rekjanie in pargana Dum Dum, now International Airport, Ramdulal Dey learned business writing with one Balram Sarkar. His maternal grandfather Ramsundar Biswars took him to Calcutta where Ramdulal got a labouring job with an English firm, where he learned rudimentary of modern book keeping and traditional accounting.
He became a ship sarkar (petty accounting clark). His employer, Madan Mohan Dutt, found him commercially courageous and at the same time very honest and intelligent. Once Ramdulal was sent to join a condemned ship auction sale in whice he made a windfall profit for his master. He could easily take the money for himself, if he wanted to, but he refrained himself from the tempation. He deposited the shole profit to his master and told him how he made the profit. Madan Dutta, himself a big entrepreneur, returned the whole profit to Ramdulal asking him to do business by himself. The windfall money became the keystone of Ramdulal's fortune making journey.
The genious of Ramdulal, according to his briographer, could transform dross into gold. He used the gift-capital so productively and effectively that soon Day emerged as one of the richest men of Calcutta. He owed his prosperity particularly to the American merchants. From 1795, the American merchants were pursuing their Bay of Bengal trade on a larger and larger scale. Most of them made ramdulal as their local agent. As an agent he not only served his American masters but also invested his capital with them. American merchants used his credit in their coasting trade in the Bay of Bengal region and shared the profit with him. If the American merchants made more profit than other partners in the region, it was largely because of Ramdulal's Partnership with them. This they acknowledged always in their correspondence with him. His American partners, being enthused by their stupendous success in the Bay of Bengal trade, wanted to take Ramdulal to America and honour him publicly there. But religious constraints refrained him from taking overseas journey. The Americans chose alternative was to honour him. As a token of their gratitude to Ramdulal Dey they presented to him in 1801 with a life-size portrait of their founding father president George Washington. They also caused a portrait of Ramdulal to be painted and preserved at the East India Marine Society Museum. The extent of his American connection may be gauged by another gesture on the part of his American business colleagues. They named one of their large ships Ramdoolal Day in memory of his contributions to America's success in the Bay of Bengal trade. They fondly called him `Du Loll'. The condolence resolution of his death was recorded in the minutes of the East India Marine Society at Salem, Massachussets. Individually messages of condolence came from most of the East India business houses of Boston, Salem, New York, Philadelphia, Newbury Port and Marvelhead.
Ramdulal Dey received tremendous respect from his contemporaries because of his religious and secular services rendered to people who needed them. The financial elite of Calcutta contributed to the foundation of the hindu college. The highest amount, however, was donated by Ramdulal Dey. Similary, all educational, charitable and other societies emerging in Calcutta in the first quarter of the nineteenth century received his benefactions. He left behind handsome pensions for those of old officers who served him to his satisfaction. [Sirajul Islam]