Dhaka Chamber of Commerce and Industry
Dhaka Chamber of Commerce and Industry is a chamber or organisation of trade and industry oriented community. It is the oldest and largest chamber and the first point of contact for business in Bangladesh. The history of the chambers and business associations of the sub-continent can be divided into two periods: the first from 1833 to 1905, when modern chambers and associations were organised by British businessmen and also by the Indian business community and the second from 1905, when the Swadeshi Movement was at the peak and the local chambers and associations began to gather strength through focusing on a nationalist agenda. The culmination of this stage was the independence from the British in 1947. The period between 1905 and 1947 saw the emergence of some fundamental characteristics of the modern chambers and association's movement, consolidating and engineering new developments in later years.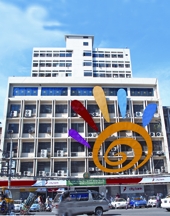 The United Chamber of Commerce and Industry and the Muslim Chamber of Commerce were the two most important chambers in Bangladesh territory during British rule. These two chambers were amalgamated in 1958 under the company act 1913 to form The Dhaka Chamber of Commerce & Industries (DCCI). This was meant to be a non- profit service oriented organisation. Later, in 1962, the government promulgated the Trade Organisations (TO) Ordinance to protect the interests of different groups of the business community.
The key function of DCCI is to promote trade, commerce and industry in the country. It facilitates trade and investment of both local and foreign entrepreneurs and caters to their various needs. A board of twenty-four directors representing all classes of members- general, associate, trade/groups, and town associations runs DCCI. The board is assisted by a number of standing committees.
In addition, it porvides statistical data and publishes trade bulletin, DSSI monthly review, circulars, and notifications. DSSI also organise training, seminar, workshop and symposium.
The chamber helps the government regularly in formulating business-friendly policies through commentaries, recommendations, and consultative and advisory services throughout the year. It co-operates actively with several foreign and international bodies. It also runs projects jointly with different international agencies, which play a vital role in implementing the DCCI objectives of creating a favourable investment climate and growth of entrepreneurs. [Ferdaus Ara Begum]