Dhaka Residential Model College
Dhaka Residential Model College started its activities in 1960 when the Government of Pakistan founded it as a Residential Model School on an area of about 50 of land acres at Mohammadpur following the model of famous Public School of England. Initially the management of the institution was under the direct control of the central government. In 1962, the central government of Pakistan handed over the responsibility to the provincial government of East Pakistan. A board was constituted to look after the management and since then it is being run as an autonomous body. In 1967, the central government again took over the control of the school and it was elevated a higher secondary level institution with the new name Dhaka Residential Model College. After the liberation of Bangladesh, it was placed under the control of a high power Board of Governors headed by the secretary of Ministry of Education. The Board is presently managing the affairs of the College.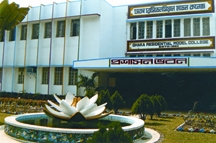 The institution imparts education in three levels: primary, secondary and higher secondary. Students of class III to XII can study here both in Bangla and English medium. The College now runs in two shifts morning and day. At present, there are 3800 students and 170 teachers in this institution. Dhaka Residential Model College, Mohammadpur
The College has 25 buildings including two academic, one administrative and six students hostel, five residential quarters for teachers, three staff quarters, mosque, hospital, auditorium, one guardian shade and twelve playgrounds. It has a rich library with 20 thousand books, two modern computer labs and six science laboratories. Each student hostel, known as House has a capacity of accommodating 800 students. The academic result of the College is quite satisfactory. In 2008, the Board of Intermediate and Secondary Education, Dhaka awarded the college as the best educational institute of the year.
Participation in the morning exercise and the afternoon sports meet is compulsory for the residential students. A week long annual sports and cultural competition is held in the college at the beginning of the new year. The college also organises science fair, debate competition and language competition festival every year. Souvenirs and annual college magazine are published on these occasions. Moreover an inter house competition is organised every year in events like hamd-nath, azan-qirat, extempore speech, debating, quiz, recitation, drama-acting, jokes, story-telling, dramatic programmes, music, painting, clay work, cubbing, scouting, science club, debating club, Band performance, junior cadet corps etc. The students publish a wall magazine on 21st February every year. [Md Kamruzzaman Khan]