Dhaka Zoo the largest zoo of Bangladesh located at Mirpur in Dhaka. An animal park was set up at the high court premises in 1950. Later the formal journey of Dhaka Zoo began in 1964 with that scanty collection. The zoo was shifted to its present location on 23 June 1974 covering and area of 213.41 acres of land. The zoo is run under the direct supervision of the Ministry of Fisheries and Livestock. At present, about ten thousand enthusiastic people visit this zoo everyday and the number of visitors is gradually on the increase.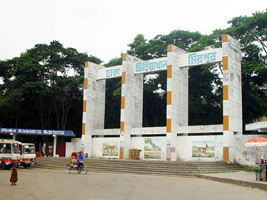 Dhaka Zoo has a rich collection of animals, birds and wildlife of both local and foreign origin. It has 2150 types of vertebrata belonging to 191 species. These include: 551 mammals of 64 species, 73 reptiles of 15 species, 104 aquarium fishes belonging to 32 different species and 1500 birds of 91 species. Most attractive exhibits of the zoo are 15 royal bengal tigers, 21 Lions, 9 hippopotamus, about 200 monkeys and 33 pythons. It has eleven other tigers of different species, 16 lions, eight hippopotamus, 65 monkeys and 14 giant snakes beside some rare animals and birds like zebra, emu, black bear, goyal (bison) etc. Meanwhile, birds and animals including tiger, lion, leopard and monkey of different species were born in the zoo under its ongoing Cage Animal Reproductive Programme. Birds and animals are exchanged with zoos of other countries under a protocol signed earlier. There are two lakes of clear water in the zoo, where innumerable migratory birds take shelter in winter.
The curator of Dhaka Zoo manages its overall activities. He is supported by two deputy curators who are in-charge of various sections like Administration, Animal Nutrition, Veterinary, Small Mammals and Reptile Section, Carnivorous Animal Section, Giant Herbivorous Animal Section, Birds Section, Research Wing, Information Section, Museum Section, Fisheries Section and Security Section. The subordinate officers numbering 213 and support staffs help them to run these sections. There is an advisory committee headed by the Minister for Fisheries and Livestock to guide the zoo authority.
About three million people visit the zoo every year. It remains open for the visitors everyday from 8 am to 5 pm except Sunday. On the public holidays also the zoo gates are made open according to the normal schedule. The natural beauty and environment of Dhaka Zoo are very much entertaining and attractive to children and young learners. There is an Information Centre at the main entrance, where visitors are provided with necessary information. The zoo authority provides wheel chairs to the elderly and physically disabled visitors. There is a zoological museum inside the garden area of the zoo.
The government has taken up a step to bring all zoos of the country under a common rule. The Zoo Act was enacted in 2003 to ensure proper management of zoos and protection of wild animals there. Efforts are on to build up Dhaka Zoo as the controlling re-productive center of animals for all zoos of the country under the wildlife captive breeding programme. With the implementation of the programme in cooperation of the experts, it is expected that Dhaka Zoo would be able to meet up the requirement of other zoos of home and abroad.
In the present day world, zoos are not mere entertainment centres, rather these have become important seats for conservation education and zoo education. Students of the Veterinary and Animal Husbandry Faculty of bangladesh agricultural university and other Veterinary colleges do their internship in Dhaka Zoo. Zoology students from other universities of the country regularly visit this zoo in connection with higher studies and research. The government is planning to set up a Zoo Education Centre here to meet up the growing need. Programmes are underway to raise awareness about the protection of local endangered and almost extinct species among the students and people and to bring school students to the zoo once in a week for providing them first hand knowledge on Zoology. A television programme named Animal Talk Show has been planned to telecast from local channels daily to introduce rare and valuable inmates of the Zoo.
The Dhaka Zoo authority has taken up some other projects to improve its overall standard. These include: turning the internal environment of the Zoo into a Safari Park, introducing battery run cars for children, physically disabled and older people to facilitate their visit, establishment of a children park, a dolphin corner and a butterfly park inside the zoo. [ABM Shahidullah]