Dhanbari Mosque a historic architectural relic at Dhanbari upazila in Tangail district. Mughal generals Ispinjar Khan and Manawar Khan esatablished their zamindari at Dhanbari after defeating Dhanapati Singh during the reign of Mughal emperor Jahangir. The mosque is not dated by any inscription. But the archaeologists assume that it was built during the time of Jahangir.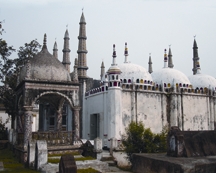 The mosque stands on the peripheral side of the Dhanbari Nawab Manzil on the bank of the dighi. Built in Mughal style, the mosque has been renovated several times. It is a three-domed mosque with a minaret built on around 10 kathas of land.The length and breadth of the mosque was originally 13.72m and 4.57m respectively. But after renovation its shape had been changed to a square building, clearly a deviation from the traditional three-domed rectangular Mughal mosque.
The mosque has three multi groove arched entrances on the east wall. Besides, there are two entrances each on its north and south wall. Though the mosque had been renovated several times, its domes and entrances still bear the characteristics of their antiquity. There are three mihrabs on the qibla wall in alignment with the three front doorways. The octagonal niche of the central mihrab is decorated with multi grooves arch with flower motives. The two side mihrabs are also multi groove but devoid of decoration. Beside the central mihrab stands a mimbar. The interior of the mosque is decorated with chini-tikri mosaic having floral patterns in most cases.
Adjacent to the mosque there is a walled up old graveyard covering an area of about half a bigha of land. Nawab Ali Chowdhury (1863-1929), zamindar of Dhanbari, expanded the mosque and gave it a modern look. The mosque is now accommodating around 200 Muslims in prayer. [Khan Mahbub]