Dhopa an occupational group, who launder and iron clothes. Dhopas, also known as rajaks, traditionally belonged to a lower caste of the Hindu community in the past. In olden times, dhopas used to wash the clothes of rich people like zamindars. Later, the necessities of the society gave rise to a very steady demand for their services. Formerly, washermen used potash produced by burning banana stalks for cleaning clothes. At present, they use soda or bleaching powder. Some dhopas, however, add urine of the cow to soda or bleaching powder as the mix of washing reagents. The mode of washing begins with the cloths made wet with soda or bleaching powder and then amassed and heated with vapour into a vessel on an oven. The clothes are then rubbed with soap and threshed on a wooden board and finally rinsed in cold water. In some cases, the gruel or starch of arrowroot, or indigo, soaked in water is used. Indigo is generally used for removing the yellowish tinge and whitening the material.
The process terminates with the ironing of the clothes. The Portuguese introduced the ironing of clothes and the Bengali word for ironing, istri is derived from the Portuguese.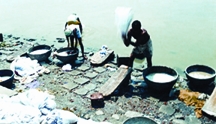 The dhopa caste claims to have descended from Neta Muni or Neta Dhopani, who washed the clothes of Brahma. Owing to universal custom, which forbade a Hindu to wash, the dhopa caste was very widely distributed and had been broken into an unusually large number of sub-castes in Bengal. Two of the prominent subdivisions in Bengal were the Ramer dhopa, and Sitar dhopa, the former claiming to descend from the washerman of Rama, and the later from that of Sita. Members of these two groups eat and drink together, but never intermarry. The religion of dhopa caste exhibits no points of special interest. Like most lower caste Hindus, they follow the Vaishnava sect, and only a few are Saktas.
Although there were hardly any Muslims in the profession of dhopas in the past, the profession is no longer a Hindu domain in Bangladesh. The main reason is the gradual thinning out of the Hindu population in this part of Bengal after 1947. Change in washing technology and the general attitude to laundry work as an economic activity also has encouraged Muslims to come to the profession. In fact, the introduction of dry cleaning and the invention of automatic washing machines caused extinction of traditional dhopas in many areas of the country. The modern washermen, equipped with automatic and semi-automatic machines, now operate laundry-shops as business entrepreneurs. Traditional dhopas continue to work in urban areas, but in most cases, as subcontractors of this new class of entrepreneurs. Nevertheless, they perform their functions independently with their indigenous mode of washing, cleaning, and ironing, mostly in rural and semi-urban areas. [Gofran Faroqi]