Disability is defined by the World Health Organisation as an umbrella term, covering one's physical impairments, activity limitations and participation restrictions. Actually, it's such a condition of a person who cannot be able to survive their general life because of physical, mental or intellectual retardation caused by problems during pregnancy, at birth or after birth.
The Census of 2001 reported the existence of about 14 million disabled people in Bangladesh and the figure includes the victims of the War of Liberation also. The prevalence of disability is very high for reasons of overpopulation, extreme poverty, illiteracy, lack of awareness, and above all, lack of medical care and services. No comprehensive national survey has yet been made on disabilities but there is small reliable data available on this area.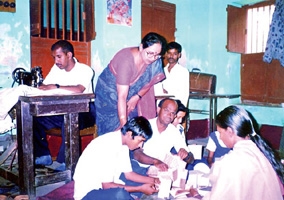 In 1993, the Government of Bangladesh adopted 'The United Nations Standard Rules on the Equalization of Opportunities for Persons with Disabilities'. In May 2002, the ESCAP adopted a resolution 'Promoting an inclusive, barrier-free and rights-based society for persons with disabilities in Asia and the Pacific'. Bangladesh as a member of United Nation (UN) is also committed to the Welfare of the disabled and has signed the 'United Nations Charter of Children's Rights' which enjoins upon all countries to take adequate steps for education, health and rehabilitation of the disabled. With this international perspective, Bangladesh Government established National Coordination Committee on Disability under the Ministry of Social Welfare in 1993. In 1995, first developed a National Action Policy on Disability approved outlining guidelines for prevention, education, health care, rehabilitation and secured communication as a national program. This policy embodies the first official recognition by the Government of the issue of disability as part of development agenda. In 1996, National Action Plan on Disability approved outlining the plan for the implementation of the National Action Policy on Disability, 1995 though this plan has not been yet fully implemented.
The Government of Bangladesh has been showing now an increasing interest for the development of persons with disabilities and to work hand-in-hand with the non-governmental sectors. Based on the international commitment, the Bangladesh Government declared to observe the National Disability Day in 1998, which was implemented from April 1999. To eliminate the obstacles of disable persons and recognize the legal rights as the equal citizens of the country, the Government initiated to establish a National Foundation for the Development of Disabled Persons (NFDDP) in 2000 under the Ministry of Social Welfare. With the legislative support of National Policy on Disability 1995, the National Parliament enacted the Disability Welfare Act on 4 April 2001. This law provides the first ever national definition and classification of disability including their rights, equal opportunities and legislative support from the Government of Bangladesh.
In March 2002, Government of Bangladesh declared a set of short-term and long-term activities for the welfare of the persons with disabilities. These include:
1. Establish separate ticket counter at railway station, bus terminal, river port, launch-steamer port, air port and air office to ensure the easy transport access of the people with disabilities throughout the country.
2. Reserve specific number of seat in bus, train, launch and steamer for the people with disabilities.
3. Fill up the 10% quota at government service for orphans and people with disabilities.
4. Open a complain box at department of social service to stop the harassment of the people with disabilities.
5. Construct slope way (ramp) to ensure the easy access of the people with disabilities of every government office.
6. Overrule all the barriers for the people with disabilities in the recruitment process of 1st and 2nd class government job.
7. Start micro-credit program by every nationalized bank for the people with disabilities.
8. Ensure that every government organisations who will be the possible user of plastic products produced by the Maitry Shilpa under the social service department should purchase the products without any tenders.
9. Increase the government's financial grants to the National Foundation for Development of the Disabled Persons (NFDDP) up to 20%.
To implement the National Policy on Disability and the Disability Welfare Act, the government formulated in 2006 a Five-year National Action Plan. This plan covers the areas of early identification and prevention, training, education and related material development, communication, employment and rehabilitation, human resource development, social security, promoting self-help organisations and overall national coordination. The government has also appointed a focal person in every division of the Ministries who can provide the disabled persons; the opportunity to get services from the government easily. Bangladesh Government also signed and approved the United Nations Convention on the Rights of Persons with Disabilities (CRPD) in 2007. In 26 December 2009, on the occasion of the 18th International Day of Persons with Disability, the prime Minister of Bangladesh declared to ensure the admission of all disabled children to any school and government will consider tax exemption for those private entrepreneurs and corporate institutions that will employ disabled people in their respective institutions. She also declared to inaugurated hostels for the working female and male disabled people, information and help centre, mobile service, and autism resource centre for the person with disability.
Access to education of children with disabilities is severely limited. This limitation is largely occasioned by un-equal educational system; rigid and unfriendly school curriculum and school environment, ignorance and lack of awareness of parents and also the inadequate knowledge of teachers. It is estimated that only about 5% of children with disabilities are enrolled in existing educational institutions. Recently, the government has been promoting inclusive education for children with mild disabilities. In fact, this is really an encouraging footstep, which may create a space for the enrolment of more children with disabilities in the mainstream educational institutions. Simultaneously, the program is providing stipend to the students with disabilities. Nowadays, a number of national and international NGOs are sharing the development work in the country alongside the government for the persons with disabilities.
In the field of visual impairment, the Department of Social Welfare runs a number of schools located at the former four divisions: Dhaka, Chittagong, Rajshahi, and Khulna. These schools have a total capacity of admitting 500 children and provide hostel facilities of a total of 180 children who receive free room and board at government expenses. In addition, the Department of Social Welfare also has a scheme for the education of visually impaired students with their sighted peer in 64 normal high schools all over the country. The scheme provides one resource teacher and a resource room to each school where the teacher works to help visually impaired students in overcoming any difficulties. Under this scheme a Braille Press, donated by the American Foundation for Overseas Blind, has been set up in Dhaka. These Braille books are supplied free of cost to students of all schools for the visually impaired.
The following table shows the major NGOs providing support to the visually disabled:
| | |
| --- | --- |
| Name | Year of Establishment |
| National Federation of the Blind  | 1964 |
| Sightsavers International | 1973 |
| The Baptist Mission Integrated School | 1977 |
| Assistance for Blind Children (ABC) | 1978 |
| Bangladesh Dristhihin Foundation (BDF)  | 1989 |
| Bangladesh Blind Mission  | 1992 |
In the area of hearing impairment the Social Welfare Department runs 7 schools in Dhaka, Chittagong, Rajshahi, Khulna, Chandpur, Faridpur and Sylhet. The schools have a capacity to admit 700 children and provide residential facilities for about 180 children. These schools provide education up to primary level and instruction in painting and other suitable crafts. Along with the Government, a number of national NGOs are initiated various steps which are as follows:
| | |
| --- | --- |
| Name  | Year of Establishment |
| Bangladesh National Federation for the Deaf | 1969 |
| Hi-care | 1982 |
| The Society for Assistance to Hearing Impaired Children(SAHIC)  | 1987 |
| The Deaf Children's Welfare Association of Bangladesh  | 1998 |
With the support of Norwegian Association, the Department of Social Services, Ministry of Social Welfare, in 1991 built a National Centre for Special Education to provide facilities for the hearing, visually and intellectually disabled. The programme goes to the 8th grade for visual and hearing impairments and up to 7th grade for children with intellectual disabilities. Along with the Government, a number of major NGOs providing support to the children with Intellectually disabled. They are:
The Bangladesh Protibondhi Foundation (BPF) runs special schools for the intellectually disabled, cerebral palsy and autistic children. In Dhaka there are two special schools at which these children are screened, diagnosed and placed in different classes for education and training according to their age levels.
The Society for the Welfare of the Intellectually Disabled-Bangladesh' was established in 1977. It is mostly known as SWID-Bangladesh. Most of the children and young adults are with intellectually problems along with few cerebral palsy and autistic types.
Other organisations such as Autism Welfare Centre, Society for the Welfare of the Autistic Children, Society for the Education of the Intellectually Disabled- Trust, Caring Glory, School for the Gifted etc. catering mostly for autistic as well as children having intellectual disability and cerebral palsy.
To accomplish the mission of inclusion of the person with disabled in education or overall in society:
The Centre for Rehabilitation of the Paralyzed (CRP) established a special school in 1993 primarily for children with cerebral palsy. Recognizing the shortcomings of a segregated educational system, CRP combined these special classes with their mainstream school, which accommodates disabled children into inclusive education. But two separate classes are currently maintained for assessment of children learning and for those who are not capable to be included in mainstream school. CRP is involved to promote quality health care and rehabilitation for people with disabilities as well as prevention of the causes of disability, equal opportunities, skill development and overall increasing awareness for the person with disability.
BRAC (Bangladesh Rural Advancement Committee) provides training for teachers on inclusive education and positively encourages disabled children to attend their non-formal schools. Currently there are approximately 14,000 children with a variety of disabilities are integrated in their schools. This has been achieved by awareness rising of disabled children's rights both in the community and BRAC education system through training and follow-up support to teachers.
There are other well known organisation working for the development of persons with disabilities which are as follows:
| | |
| --- | --- |
| Name Year of | Establishment |
| The Underprivileged Children's Education Programme (UCEP)  | 1972 |
| Gram Bikash Sangstha   | 1991 |
| Disability Resource and Documentation Center (DRDC)   | 1994 |
| Center for Services and Information on Disability (CSID)   | 1997 |
There are also another organisations such as Voluntary Health Services Society (VHSS), Bangladesh Protibandhi Kallyan Somity (BPKS), Dhaka Ahsania Mission (DAM), Disabilities Rehabilitation and Research Association (DRRA) etc. working for the development of persons with disabilities.
Internationally, a number of organisation work with the person with disability, which are as follow:
Action Aid Bangladesh was working since 1972 but from 1983 it was working with poor and excluded people such as people with disabilities to eliminate poverty and injustice in their survival life. In 1993, a unit was formed to support its disability work in Bangladesh. Now, this organisation is working with the area of disability as well as other related sociological issues.
Handicap International started working in Bangladesh since 1997 to ensure right with the people of disabilities and is included in every area of life. In partnership with the Centre for Disability in Development (CDD), the Bangladesh office was opened in 2000 and began working with 5 local community development organisations. In collaboration with CDD, to improve the standard of living of people with disabilities, to empower their rights and to promote their full and meaningful participation in developmental programs, they have developed the Community Approaches to Handicap in Development (CAHD) project.
Helen Keller International began in 1978 in Bangladesh with the mission to save the sight and lives of the most vulnerable and disadvantaged people of Bangladesh. This organisation has nutrition education and training programs; evaluation & conserve statistics of this programs and provides technical assistance for the education and rehabilitation of the blind.
In order to move towards greater inclusion, teachers need to understand the broader aspects of child development and how children learn. That's why, under the Primary Education Development Project I and II (PEDP I and II), the Ministry of Primary and Mass Education developed short courses for head-teachers and teachers for teaching students in the primary schools. Under the course of non-formal education include inclusive issues and how to deal with students with special needs. Similarly the Teaching Quality Improvement-Secondary Education Project (TQI-SEP) under the Ministry of Education is to organize training program in order to improve the quality of teaching in secondary education in Bangladesh. Launched in April 2005, the project aims at bringing qualitative change at secondary level education by improving the standard of teaching and recruitment process. Under the project all untrained secondary teachers in the country is being trained up. The head teachers, chairman and another member of School Management Committee (SMC) are given professional development training on pedagogy and educational administration. The project will ensure training due to program and continuous training for the professional development of the classroom teachers.
In order to generate quality management facilities and to create professionals in different areas of disability, a number of institution provide Honors, Masters, Diploma and Training program in different categories of disability- Mental Retardation, Visual Impairment, Hearing Impairment, Autism, Cerebral Palsy, Physical Disable, Learning Disability. Such as:
1. The Department of Special Education, Institute of Education and Research, University of Dhaka, is offering a four years Bachelor of Education (Honors) in special education. In addition there are Masters, MPhil and PhD in specialized areas.
2. The National Centre for Special Education under the National University provides teacher training in special education. Now, this organisation provides a post- graduate diploma in special education for one academic year.
3. Bangladesh Health Professionals Institute, the academic unit of the Centre for Rehabilitation of the Paralyzed, Savar, under the affiliation of the University of Dhaka offers a one-year C in Ed course in Inclusive Education with a focus on the physically disabled. This course is recognised for primary teachers by national academy for primary education (NAPE). Short orientation courses are also offered for teachers, head-teachers and school management committee (SMC). The Centre also offers four years Bachelor (Honours) courses for health professionals in physiotherapy, occupational therapy and speech therapy.
4. The Bangladesh Institute of Special Education (BISE), a programme of Bangladesh Protibondhi Foundation (BPF) is a teacher training college affiliated with the National University. This institute offers a Diploma BSEd (Bachelor of Special Education) and Masters Degree in Special Education for one academic year respectively.
5. The Society for the Welfare of the Intellectually Disabled (SWID-Bangladesh) also offers Diploma (BSEd) in Special Education for one academic year with affiliation from the National University.
The Disability Welfare Act was enacted in the National Parliament in 2001 but finally had been published in the form of a gazette in 2008. Every year, Government of Bangladesh had allocated funds concerning people with disabilities in the national budgets. Under the Department of Social Services it also introduced a micro-credit scheme and a monthly disability allowance for persons with physical disabilities. The majority of persons with disabilities live in less developed countries where people has also lack access to essential services such as their basic needs. Moreover, there exists a close relationship between poverty and disability. The risk of impairment is greater for a family that lives in poverty, while and at the same time, a disabled family member places higher demands on the family's resources, which ultimately caused poverty. Disability will always remain in society but they have to be able for doing something. The silver lining is that now the Government of Bangladesh is showing a keen interest to the ability of person with disability and work hand-in-hand with the non- governmental sector. [Sharmin Huq and Tania Rubya]