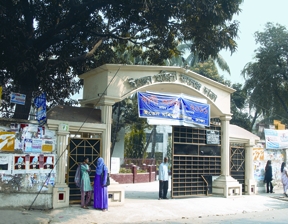 Eden Mohila College was a school originally established by a social welfare organisation called Shuvashadhini Shava at Farashganj in Dhaka in 1873 for facilitating the female education of Brahmma community. The school got merged with another girls' school in 1878 and started functioning as Dhaka Female School. In the same year steps were taken to bring the school under the government management and finally it was renamed as Eden Girls School after the name of Lieutenant Governor Sir ashley eden (1877-82) and it was shifted to a new location at Laxmibazar.
Eden Girls School is the oldest girls school in the Bangladesh region. It had 130 students in 1896. The government acknowledged it as a high standared school of East Bengal and Assam. The tremor of 1897 damaged the school building partially and it had to shift to another house. Later the school was shifted to a commercial building owned by a Portuguese trader at Sadar Ghat. With the introduction of eleven and twelve classes in 1926, the upgraded school was renamed as Eden Girls High School and Higher Secondary College. Later it was shifted to a building of Abdul Gani Road at the initiative of the then Education Minister of Bengal Sher-E-Bangla AK fazlul huq. Later, the college building came to be known as Eden Building. After the partition of India in 1947, the government of East Bengal decided to set up the Provincial Secretariat in this building. As a result, the college had to remove again from there. It was accommodated in a portion of Curzon Hall. Later the government decided to merge Kamrunnessa School and Eden Girls High School and College accommodating all students in the Kamrunnessa School's Tikatuly campus. At last Eden Girls College emerged in 1958 with the students of college sections of both Eden and Kamrunnessa Schools and the new college campus was set up at Bakshi Bazar. School sections of both the institutions remained united at Tikatuly and started functioning as Kamrunnessa School again.
In 1962, Eden College got a new campus at Azimpur over a land of 18 acres. Degree courses were introduced there and the activities of intermediate classes were continued at the old campus of Bakhshi Bazar. But in 1963, Azimpur branch and Bakhshi Bazar branch of the college had to introduce higher secondary and Degree courses respectively. The Bakhshi Bazar branch was renamed as Government Girls College and later Badrunnessa Girls College. The Azimpur campus of Eden College renamed there as present day's Eden Mohila College.
Eden Mohila College has five academic buildings, one administrative building and five girls' hostels in its campus. Moreover, there is a library building, one ICT lab, one canteen, a playground and a pond. An ATM booth of dutch-bangla bank limited was also set up in the college, which has thirty thousand students and 230 teachers. Over five thousand students of this college are awarded post-graduate degrees every year. The students also take part in extra curriculum activities like rover scout, BNCC, Taikando, music competition and sports meet. Miss Sorabji is the first Principal of Eden Mohila College. [Mahfuja Choudhury]