Egarasindhur Fort a medieval fort connected with the name of isa khan, is situated in the village of egarasindhur under Pakundia Upazila of Kishoreganj district. The term 'Egarasindhu' here implies 'eleven rivers'. The fort may have been so named because at one time it was situated at the confluence of numerous rivers (Banar, Shitalaksya, Arial Khan, Giyara Sunda etc).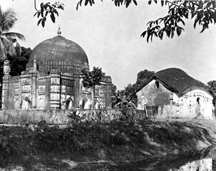 There is a tradition that Bebuidya, a Koch chief, constructed the fort in the 16th century and made it his capital. An old tank, which is still extant, is called Bebuidya Rajar Dighi (the tank of king Bebuidya). It is generally believed that the royal palace stood overlooking the tank. Isa Khan might have occupied it from Bebuiddya.
However, Isa Khan must be given the credit of reconstructing the fort and developing it as a powerful military base. In 1589, mansingh made an assault on the fort, but returned after concluding a treaty with Isa Khan.
The Ahoms occupied the fort towards the beginning of the 17th century. islam khan defeated them and destroyed the fort. Most of what remained of the ruined fort was destroyed in the devastating earthquake of 1897. In the 17th century two mosques - sadi mosque (1652) and shah muhammad mosque (1680) - were built here.
An earthen wall enclosed the fort, some 18.28m wide at the base. A man-made moat on the western side and natural rivers on other three sides surrounded the wall. It is possible that the stones used in Shah Muhammad's Mosque were obtained from the ruins of the fort. Other than a large number of bricks (mostly 17.8cm x 17.8cm x 3.8cm), innumerable brickbats and potsherds, and a few stones and mounds, no structural remain of the fort exists today. [Shahnaj Husne Jahan]