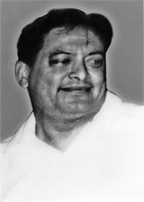 Ehtesham (1927-2002) film producer and director. His full name is Abu Noor Ehteshamur Rahman. But he was commonly known as Ehtesham. He was born in Dhaka on 12 October 1927. His father Mohammad Yusuf was a professor at Islamia College. His mother was Mosammad Kaniz Fatema.
In 1950, Ehtesham started his career as a displayer in the film industry. In 1956-57 he formed a film distribution body named Lio Films. His first movie E Desh Tomar Amar (This Country Yours and Mine) was premiered on 25 December, 1959 with two assistant directors, Zahir Raihan and Kamal Ahmed. At the beginning of the history of film industry in Bangladesh, this movie was very popular and earned him fame and awards. Besides, this movie first introduced the tradition of romantic pair in Bangladeshi film and through this movie Shabnam, Rahman and Subas Datta made their debut in the film and contributed to the growth of the film industry. He also produced Subsequently Rajdhanir Buke (1960), Chokori (1962), Chanda (1962, first Urdu movie in Bangladesh), Natun Sur (1962), Sagor (1965) Second coloured movie in Bangladesh, Chand Aor Chandni (1968), Dag, Pitch Dhala Path (1970), Shakti etc.
Ehtesham produced films in a climate of tough competition. At that time there were plenty of Indian Bangla-Hindi and Pakistani Urdu movies in vogue in Bangladesh. He broke some long-established customs of Bangladeshi films. In his first movie Rahman was the villain, but in the second he was made the hero - this heralded a new trend in Bangladeshi film. Besides, he enriched the film industry of Bangladesh by introducing a number of director, actor, actress and singer, like producer Azizur Rahman, IR Khan, Kamal Ahmed, Shibly Sadik and music director Robin Ghosh; actors and actresses Nadim, Shabana, Chitra Sinha, Shabnaz, Nayeem and Shabnur.  
Ehtesham played a leading role as the organizer of 'Purba Pakistan Chalachchitra Samiti' (East Pakistan Cine Society). He died on 17 February 2002. [Khandakar Mahmudul Hasan]