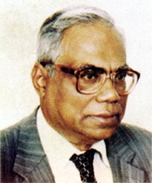 Farouk, Abdullah (1928-1997) educationist, economist, writer, was born in Pabna. He got primary and secondary education first in Pabna Zila School and then at Park Circus High School, Calcutta. After receiving his higher secondary education from Pabna Edward College, he went to Rajshahi Government College, where he completed BA Honours in Economics in 1945. He received the MA degree in Economics (1948) from Calcutta University with statistics as a special paper.
Abdullah Farouk had a varied job experience. Initially, he took a teaching job in Pabna Alia Madrasah. Later, he joined Sirajganj College as a teacher of Economics. In 1950, he was appointed assistant director of the government food department. The government sent him to Calcutta to participate in a one-year training course on official statistics sponsored by the Indian Statistical Institute headed by PC Mohalnobish. He then got registration as a PhD student under MV Ayar in the Economics Department of the Dhaka University.
Meanwhile he got married to Sufia, who was then a student of Chittagong Khastagir College. He continued to work as a research student and wrote a book on Pakistan Economy. Farouk was awarded the PhD degree in 1955 for his dissertation on 'Rice Marketing'. In the same year, he joined Dhaka University as a full time teacher and went to Indonesia to represent East Pakistan in the Bandung conference on population growth.
When Pakistan government published the draft of its first Five-Year Plan in 1956, the Pakistan Economic Association convened a special conference to discuss it. Representatives from East Pakistan opposed the Plan from the point of view of a 'two economy'concept and submitted a memorandum to which Abdullah Farouk was one of the signatories. In 1957, Abdullah Farouk received training on research methodology in USA, UK and France under a UNESCO programme. In 1964, he got Nuffield Foundation Fellowship to conduct research study in UK. In 1966, he was invited to the International Marketing Institute of the Harvard Business School. In 1967, he visited France and East Germany to attend seminars on economic development. Subsequently, he also visited Burma, Ceylon, Vietnam, China, Brazil, Chile and Japan.
Dr. Farouk taught economics and marketing but most of his research was devoted to marketing. He wrote a textbook on the problems of marketing in Bangladesh. Together with abul fazal atwar husain, mirza nurul huda, Quazi motahar Husain and Maniruzzaman, he set up the Bureau of Economic Research in Dhaka University. His work Irrigation on a Monsoon Land demonstrated his interest in modernising agricultural practices. Science-trained Manpower, co-authored with Taherul Islam and Maniruzzaman, was a pioneering study on contribution of science-related knowledge and skill in East Pakistan. His books titled The Hard Working Poor and The Vagrants of Dhaka City reflected his concerns for the neglected section of the population and the interrelationship between these groups of people and development. Time Use of Rural Women is one of the first major works to bring gender issue into economic studies in Bangladesh. Other major works of Abdullah Farouk include Modernising Subsistent Agriculture (co-authored by S A Lake), Retailing of Consumer Goods (co-authored by M Safiullah), Economic History of Bangladesh, Changes in Bangladesh Economy and Measuing Benefits of Development Projects. Dr Farouk was vocal on many issues as can be seen from his pamphlet on primary education. He was also a good education manager and adept in promoting the research capabilities of young researchers.
Dr Farouk became the Treasurer of Dhaka University in 1986. At different stages of his career, he served the government as Member, Planning Commission, as Chairman, jiban bima corporation, janata bank, bangladesh shilpa rin sangstha and National Income Commission, Member, Minimum Wage Board and Member, Small and Cottage and Industries Corporation. [M Habibullah]