Farrukh Siyar Mosque also called 'Lalbagh Shahi Mosque', is located within a few yards of the southern gate of the lalbagh fort at Dhaka. This is the largest Mughal mosque in Bangladesh, capable of accommodating some 1500 devotees at a time. Built by Prince farrukh siyar between 1703 and 1706, while he was at Dhaka as a representative of his viceroy father Prince azim-us-shan. Due to a series of later repair and extension works the mosque now gives a modern look. The earliest known repair works to the mosque were done around 1870 at the instance of khwaja abdul ghani and it was at that time that the present masonry roof of the mosque replaced its original wooden one. A new minaret was built in the Pakistan period. In the 1980s the mosque was thoroughly repaired and a large extension, covered with a flat masonry roof, was built in the east.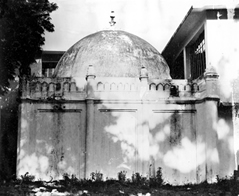 The mosque still retains its original layout. Its outer dimension is 49.99m from north to south and 16.45m from east to west. Internally it is 47.85m x 14.33m and the thickness of the walls is 1.07m only. The massive octagonal towers on the four exterior angles rise above the horizontal parapet and were originally topped by solid kiosks and cupolas that still exist in a ruinous state above the southeastern one.
Each of the north and south walls is pierced with three arched openings, which correspond to the three aisles running north to south.
There is a single semi-octagonal mihrab inside in the centre of the qibla wall, now widened and completely modernised. On either side of this mihrab the qibla wall is marked with four arched outlines at regular intervals. In the axis of these arched outlines (eight in total) and the single mihrab there were nine doorways in the east wall, the central one being bigger than its counterparts. But at present the central opening has been transformed into a triple-arched doorway. The nine doorways in the eastern facade and the three in the side walls suggest that the interior of the mosque was originally divided into three longitudinal aisles and nine bays by two rows of free standing pillars, eight in each row. But at present there are only four pillars in each of the two rows. And as such it is now a three-aisled and five bay deep mosques. Originally the mosque had a flat roof, made of wood and planks. The roof is still flat but masonry built, supported by heavy iron beams on the four walls and two rows of brick pillars. Nothing of the original ornamentation of the building now survives, except the traces of muqarnas works inside the half-domed top of the central mihrab niche. The walls are internally covered with modern Spanish cut tiles.
The mosque is of no special architectural beauty. Nevertheless it deserves some mention because of its ground planning and roofing system. This is the only Mughal mosque in Bengal which exhibits a three-aisled deep prayer chamber. Mosques with three longitudinal aisles were common in Bengal during the Sultanate period, such as the chhota sona mosque (1494-1519) and the bara sona mosque (1526) in Gaur. The Mughal architects may have borrowed the idea from these Sultanate examples. Its flat roof is a new feature. No other Bengal mosque, produced either in the Sultanate or in the Mughal period, has a flat roof. [MA Bari]