Furniture refers to household movables such as chairs, tables, and beds. Normally the word also implies draperies, rugs, mirrors, lamps, and other furnishings. The history of furniture parallels the progress of culture. Until the end of the 18th century, Bengal furniture drew motifs of designs and ornamentation from two sources: ancient Hindu culture and medieval Muslim culture. In addition, general oriental techniques of carving and inlay on ivory and wood also worked as common motifs.
Traditional furniture As regards ancient and medieval furniture, some idea may be formed on the basis of terracotta, religious images, temple art, sculptures, wood and ivory works, etc. The following furniture, according to these sources, seem to have been mainly in vogue: taktaposh, a wooden bedstead; moda, a cane or bamboo stool; satranch, a striped carpet of thick cotton cloth; farash, a broad cotton spreadsheet, jal chauki, a stool; pati, a mat of fine texture; swap, another description of mat of not so fine a quality; different sorts of coarse mats; pidi, a plank seat; chhala, a jute mat; kusan, a seat made of kusa grass. These are essentially sitting and sleeping furniture accompanied certainly by many other auxiliary items not so much known today.
Eating and cooking utensils include pata, a stone plate; thal, a plate generally of brass or bell-metal; bati, an earthen or brass cup; ghati, an earthen or brass water-pot; pali, a brass tumbler; kadai, an iron pan; patil, an earthen pottery for specific uses; basan, a crockery plate used only by Muslims. There are some other cooking utensils in use like bokna kona, a brass pot; malsa, an earthen cup; kalshi, an earthen water-pitcher; shil-pata, a set of a stone slab and a grinding stone.
Household instruments for cutting or digging include hat-dao, a large hand-knife; bati-dao, a large knife for fish processing; sarta, a nut-cutter; kachi, a scissor and kodal, a spade. Utensils for holding things are sinduk, a large wooden chest; petra, a cane box; macha, a bamboo platform for keeping grain pots; dol, a large cylindrical basket made of finely processed bamboo reeds; matki, an earthen jar; dali, a cane basket; kulsa, aila, etc., earthen pots for keeping fire; chhala, a sack for carrying or storing grain; and saji, a small bamboo basket etc.
Every Hindu home has some pieces of religious art which include ganesh, the idol of the god of the same name; Lakshmi Sara, a picture of the goddess Lakshmi; pat, pictures of various kinds, mostly of gods and goddesses; putul, earthen images of various kinds of animals believed to be bearers of gods and goddesses. Muslim houses display Quranic verses inscribed on door tops and other appropriate places. Pictures of mosques and shrines are other religio-artistic pieces on view.
Modern furniture Modern furniture has a direct association with colonial rule. In their trade settlements established in various parts of Bengal. Europeans furnished their homes and offices with contemporary European furniture. But such furniture did not influence the native taste at all. Until the mid-nineteenth century, the use of European furniture remained confined to European houses and offices only. The typical Bengali household furniture, barring rare exceptions, was essentially traditional in style. Even in offices, Babus were seen to have shown strong preference for native furniture. Seldom did they use chairs and tables. With the spread of western education and the rise of a an western educated middle class, and the growth of urbanism, the bhadralok class tended to borrow western styles in furnishing their homes and offices, though large majority of the people, especially in rural areas, clung to traditional furniture.
Gradually, modern furniture, including steel, metallic or plastic forms along with wooden ones began to be used widely. In has become an essential part of residential houses, offices, institutions, hotels, restaurants, hospitals, public halls and auditoriums. Variations in furniture usage occur on different counts. In rural areas, traditional furnishings still prevail, but there is an increasing mingling of modern designs. Furniture usage in rural schools, restaurants or community centres is marked by the parallel use of modern furniture with traditional ones; however, the latter is being fast replaced by the former.
Use of wooden furniture, is particularly predominant among rural people, albeit, with class variations. Peasant pieces are generally solid, painted, or crudely curved, and relatively slow to change in style. A rural rich peasant household may be decorated with fine quality furniture such as beds, almirahs, sinduks, dressing hangers, chairs and tables. But since a poor peasant can hardly provide for his own family, his household is furnished with only a few implements like a rudimentary stool, ladder, colt and rack, while a landless peasant might only have a mat. Bamboo and cane made furniture such as a case, hanger, umbrella, and shelves are common items to be fond in a peasant household.
In contrast, the use of modern furniture, including natural as well as synthetic forms such as wooden, cane, plastic, or metallic forms characterise urban furnishings. Modern household furniture in urban areas includes beds, sofa sets, dressing tables, almirahs, wardrobes, kitchen cabinets etc. Office furniture includes all kinds of file cabinets, tables, chairs, racks etc. Auditoriums have stage items, tables, fixed chairs, benches, stools and the like. In hospitals, there are mechanical beds, wheel chairs, food and medicine trolley etc.
Modern furniture in offices is predominantly of the steel or metallic type. Since the 1980s, these types of furniture have found their place in households, educational institutions, hospitals, hotels and restaurants as well as such public places as airports, railway stations and ports. The development of new furniture designs go on, although with one trend overlapping the other. One style does not stop abruptly when another begins and the designs and styles are often blended with one another in a process of continuous development.
Wooden furniture is made of wood, or to put it botanically, the xylem tissue that forms the bulk of the stem of a woody plant. Chairs, tables, beds, wardrobes and racks are major furniture items most commonly made of wood. Other items such as almirahs, chests of drawer, dressing tables, sofa sets are also made of wood. Woods used in making good quality furniture include mahogany, segun, garjan, chapalish, chikrashi, shilkarai, gamari, walnut, and cherry.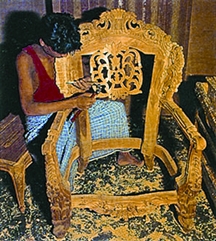 Segun and chapalish are preferred for almost all kinds of furniture. Chikrashi, shilkarai, and tikchambal are characterised by straightness and an ability to hold nails and tacks. Consequently, they are much used in constructing furniture frames that are to be covered by upholstery. Inferior wood such as that of rain tree, and of mango or some other fruit bearing trees are used in furniture manufactures and given a finish so as to simulate the finer varieties.
The manufacture of wooden furniture evolved from varieties of wood such as, bent wood, plywood, laminated wood, hardboard, etc.
Before wood can be used in furniture production, it must be thoroughly dried and seasoned. The indigenous technique of seasoning the wood is to keep it under water for 20 or 30 days and then to dry it under the sun. A more efficient method, the application of heat by high frequency electricity, is recently being used by many enterprises, especially for drying solid wood and plywood. Laminated wood is another type used in making arms and legs of chair. Hardboard or fibreboard is sometimes used as drawer bottoms, while chest backing is utilised in the manufacture of inexpensive furniture.
Specialised wood craftsmen working in urban furniture factories produce designs to satisfy various types of customers. Sometimes experienced wood craftsman will start with a piece of wood, often without a preconceived plan or idea, which he develops as he works to form the shape and grain of the material. Almost all big cities and towns of Bangladesh have some areas specialising in the manufacture of wooden furniture. Such places in dhaka are Gulshan, Mirpur, Shahjahanpur and the Stadium Market.
Supplies of wood of different varieties, sizes and shapes come largely from the forests ofChittagong, kaptai, rangamati, khulnaand sylhet. Burmese teak and other solid forms of garjan and chikrashi come from Myanmar, India, Singapore, Thailand, Malaysia, Hong Kong and Japan. Bangladesh imports readymade wooden furniture such as beds, dressing tables, chairs and kitchen cabinets. Estimated annual imports vary between Tk 7 billion and 10 billion. Bangladesh also exports some wooden furniture such as dining tables, book shelves, chests of drawer, TV chests, French bouquets and primitive sideboards to Australia, United States and Canada. Each year Bangladesh earns about $20 million from such export.
Wooden furniture items in rural Bangladesh, in contrast, are rudimentary in form and simple in character. Continuous pressure on forests for the purpose of fuel and household timber for an ever-increasing population has resulted in extreme scarcity of good quality wood. The bulk of the wooden furniture remains simple and traditional in form because of a shortage of specialised wood craftsmen and the required hardware. A typical middle-income group rural household owns wooden furniture such as chairs, tables, beds, dressing hangers, stools, sinduks, wardrobes, showcases, almirahs, racks and ladders.
Wooden furniture is pleasant looking and comparatively cheap and it is more durable. The material used to make such furniture was once easily available. This is why it dominated all other types of furniture in Bangladesh since time immemorial. But present day shortage in wood plantation is gradually constricting the development of wooden furniture.
Cane furniture adorned with creative design and artistry subtly bears testimony to the glorious tradition of handmade artifacts in Bangladesh. Such furniture ranges from dining tables to dressing tables or easy chairs to rocking chairs or from dress hangers to shoe racks. artisans gifted with artistic bent of mind employ combination of manual and mental labor in making high quality cane furniture like chairs, tables, sofa sets, book shelves, beds, corner shelves, partitions, wardrobes, almirahs, showcases, plantation cases, glass frames, trays, trolleys and show pieces. The image of different flowers, such as rajanigandha, kadam, Suryamukhi and shapla or of the moon and stars, boats, and the waves of river, are manifested in the exterior decoration of the body of such furniture. A rich collection of catalogues of local and foreign-made furniture is available to furniture makers to satisfy all types of customers.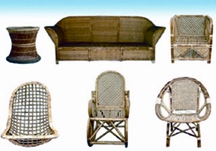 Types of cane used in constructing furniture include the golla (thick) cane for the frame and the gota (thin) cane for body and fali cane, chhani cane and rajan cane for the outer layer of decoration. Golla cane is imported from Myanmar, India and Singapore. Thin canes are locally produced and are supplied fromSylhet, Chittagong, Bandarban, Feni, Faridpur, Pabna, Tangail,and many other places. After completing the outer surface, cane furniture is burnished to give the look of natural colour with clear burnish and thinner.
Cane-made furniture has a huge demand all over the world, particularly in Asia and Europe. Bangladesh exports considerable cane furniture of different kinds to Russia, Germany, Singapore, and the Middle East and has received worldwide acclaim for its canecraft through taking part in a number of international handicraft fairs held in Germany, Canada, Japan and other countries.
Plastic furniture Plastic-made furniture emerges in consistencies ranging from hard and inflexible to soft and rubbery. They are gradually replacing natural substances such as wood and are lightweight, easy to clean, durable, and capable of being rendered very strong.
Plastic furniture started to be manufactured on a much wide scale in the 1980s and has gradually become very popular. Thermosetting and permanently set plastics are the most useful. They are remarkably durable, and are suited to production of small cabinets, tables, chairs, and such accessories as drawer handles and knobs. Molded plastics have opened a great field for new design in sculptured forms. In the furniture industry, the largest use of plastic is in the form of laminated sheets, which are produced by combining phenol or amino plastic with fibrous reinforcing material such as cotton and linen cloth, or even paper. These are easily bonded to plywood panels by special adhesives. These sheets are made with durable finishes in various colors and wood imitations, and are used extensively for table tops, kitchen counter tops, and bathroom furniture. Other plastics either woven or in sheet form, are used in place of cloth fabric and conventional upholstery webbing.
The development of indigenous plastic furniture in Bangladesh has been in association with imports of readymade plastic commodities from Germany, Malaysia, India and some other countries. A good number of enterprises has been established in the country in the last two decades. The large ones are located mainly in Dhaka (Lalbagh, Jinjira, Tanti Bazar, Shankhari Bazar, Tejgaon etc.), Chittagong and Sylhet. To manufacture plastic furniture, Bangladesh imports laminated plastic sheets, fibers and layer of thin wood from Malaysia, Thailand and Singapore.
Steel or metallic furniture is made of an alloy or mixture of iron or metals and includes innumerable furniture items such as chairs, tables, mechanical beds and wardrobes. It has not been very long since Bangladesh developed specialised steel or metallic furniture forms. During the British period, the upper strata of the society had become accustomed to use of imported metallic crafts such as sinduks, almirahs and wardrobes. After the Partition of Bengal in 1947, steel furniture started to spread rapidly, adapting modern designs to existing indigenous techniques. Bihari karigars (migrant craftsmen coming from the Indian State of Bihar) acquired the skill by inheritance and used to manufacture metallic sinduks, almirahs, cabinets and racks. But it was only after the 1980s, that steel or metallic furniture started to appear on a wide scale and within a few years it overwhelmed all other types of furniture, especially for use in offices and work places.
Office furniture constructed of light sheet steel has come into almost universal use. Some home furnishings, particularly utility items are also built of this material. The range of present day steel furniture covers almirahs, sofa sets, file cabinets, chairs of all of kinds (revolving, fixed etc), racks, shelves, laminated boards, particle boards and so on. Household steel or metal furniture includes beds, sofa sets, dress hangers, dressing tables, shoe case, kitchen cabinet etc. Hospital furniture includes mechanical bed, wheel chairs, foods and medicine trolleys etc. Both canvas and plastics are widely used as covering for steel and metal furniture. Laminated plastics are often used as tops for tables. Lightweight but strong alloys containing aluminum or magnesium as main constituents are used in making metal furniture, especially garden or lawn furniture. Additional materials used for manufacturing the steel furniture include repeat, screw, joint, handles, locks, foam, Rexene and fabrics. Pressed powder along with tissi oil and thinner is widely used as burnishing material.
Unlike wooden furniture, the steel furniture industry has developed in quite a few places within the country, especially where steel hardware is available. Notable among them are Dhaka (Bangshal, dholaikhal, Jatrabari, Dolairpar, Postogola), Khulna, Chittagong, rajshahi and narayanganj.
Bangladesh imports plain sheets and steel sheets from Japan, Malaysia, China, and India, and locks from England, China and India. Some readymade modern steel furniture such as folding chairs, file cabinets, revolving chairs, bedroom sets and fire resistance safes are imported from Singapore, Malaysia, Thailand, Japan and South Korea. It exports steel made show pieces, dolls, medals, plantation cases, pictograms, portraits of plants and animals to Europe, Canada, United States and the Middle East.
Steel made furniture is relatively expensive, but is pleasing to the eye and durable and can incorporate new designs. Normally poor and low-income groups of people do not use steel made furniture. Yet, the demand for steel made furniture is increasing and its cost gradually decreases with production in' larger volumes. [Gofran Faroqi]