Gabtali Upazila (bogra district) area 239.60 sq km, located in between 24°46' and 25°01' north latitudes and in between 89°22' and 89°33' east longitudes. It is bounded by shibganj (bogra) and sonatala upazilas on the north, dhunat upazila on the south, sariakandi upazila on the east, bogra sadar and shahjahanpu upazilas on the west.
Population Total 290190; male 148727, female 141463; Muslim 271633, Hindu 18508, Buddhist 16 and others 31.
Water bodies Main rivers: ichamati, bangali, Sukhdaha; Katalahar, Dumar, Charar and Unchuki beels are notable.
Administration Gabtali Thana was formed in 1914 and it was turned into an upazila in 1983.'
Upazila
Municipality
Union
Mouza
Village
Population
Density (per sq km)
Literacy rate (%)
Urban
Rural
Urban
Rural

1

11

106

214

3143

287047

1211

67.7

39.4
Upazila Town

Area (sq km)

Mouza

Population

Density (per sq km)

Literacy rate (%)

1.21

1

3143

2598

67.17
Union
Name of union and GO code
Area (acre)
Population
Literacy rate (%)
Male
Female

Kagail 47

8017

10317

9566

42.44

Gabtali 33

5100

14288

13661

49.47

Dakshinpara 17

4263

8165

7972

36.61

Durgahata 27

6661

15971

15590

35.83

Nasipur 67

4349

9845

9517

37.67

Naruamala 61

4983

13462

12818

41.12

Nepaltali 74

7552

20037

18880

42.09

Balia Dighi 6

5402

11402

10984

32.60

Mahishaban 54

5784

15237

14145

37.69

Rameshwarpur 81

4324

13163

12455

36.94

Sonarai 88

7036

16840

15875

40.58
Source Bangladesh Population Census 2001, Bangladesh Bureau of Statistics.
Archaeological heritage and relics Kalimandir and Mahashashan (1757 AD, Amtali village), Mosque and Tomb of Madar Shah Gazi (Baghbari village).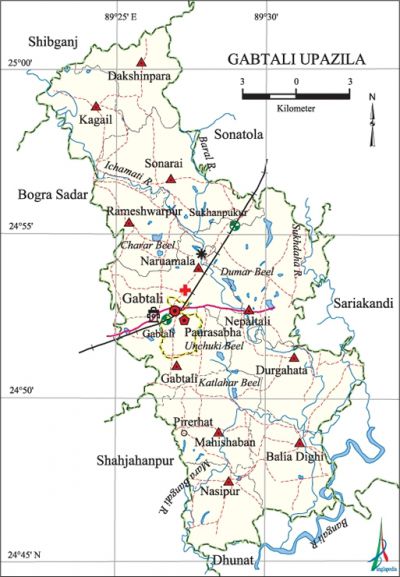 Historical events The people of this upazila actively participated in the wahabi movement and the khilafat movement. In 1971 the Pak army, in collaboration with the local Beharis and the razakars, brutally killed the innocent people of the upazila. During the war of liberation the Pak army established a military camp at Gabtali. On 15 November an encounter between the freedom fighters and the Pak army was held at village Daripara under Balia Dighi union in which one Muktijoddha Group Commander was killed. A number of innocent people were killed in an encounter between the freedom fighters and the Pak army to take control over the Railway Bridge at village Joybhoga. On 13 December, the Pak army killed two innocent persons on their way to retreat; in retaliation the freedom fighters attacked them and it turned into a direct encounter in which one Pak soldier was killed. In an encounter between four Pak soldiers (who hide out in the bushes of village Khudraperi) and the freedom fighters on 16 December one freedom fighter was killed and so were all the four Pak soldiers.
Religious institutions Mosque 455, temple 21.
Literacy rate and educational institutions Average literacy 39.7%; male 43.4%, female 35.8%. Educational institutions: college 9, secondary school 39, primary school 379, community school 2, madrasa 30. Noted educational institutions: Kagail Karunakanta High School, Sondabari Darul Hadith Rahmania Madrasa (1700).
Newspapers and periodicals Britta (art and literary magazine) and Doansh (literary magazine).
Cultural organisations Club 16, theatre 1, cinema hall 2, women's organisation 2, playground 38.
Main sources of income Agriculture 63.27%, non-agricultural labourer 2.40%, industry 0.99%, commerce 13.66%, transport and communication 5.40%, service 5.07%, construction 1.65%, religious service 0.15%, rent and remittance 0.71% and others 6.70%.
Ownership of agricultural land Landowner 58.15%, landless 41.85%; agricultural landowner: urban 57.47% and rural 58.16%.
Main crops Paddy, wheat, jute, potato, sugarcane, mustard, vegetables.
Extinct or nearly extinct crops Bona aman and aus paddy, sweet potato, sesame, kaun.
Main fruits Mango, jackfruit, litchi, papaya, banana, guava.
Fisheries, dairies and poultries This upazila has a number of fisheries, dairies and poultries.'
Communication facilities Pucca road 125 km, mud road 358 km; railway 12 km; railway station 2.
Extinct or nearly extinct traditional transport Palanquin, bullock cart, horse carriage.
Noted manufactories Food and cold drinks industry, ice factory.
Cottage industries Goldsmith, blacksmith, weaving, potteries, embroidery, bamboo work, wood work, cocoon production centre.
Hats, bazars and fairs Hats and bazars are 25, most noted of which are Naruamala Hat, Tarani Hat, Sukhanpukur Hat, Pirgachha Hat, Baiguni Hat, Perir Hat, Dakumara Hat, Golabari Bazar and Poradaha Mela.
Main exports Banana, jute, potato, vegetables.
Access to electricity All the wards and unions of the upazila are under rural electrification net-work. However 15.32% of the dwellings have access to electricity.
Natural resources Oil mine has been detected at village Tallatala of the upazila.
Sources of drinking water Tube-well 93.64%, tap 0.33%, pond 0.18% and others 5.85%. The presence of arsenic has been traced in the shallow tube-well water of the upazila.
Sanitation 24.68% (rural 24.36% and urban 55.88%) of dwelling households of the upazila use sanitary latrines and 37.26% (rural 37.27% and urban 36.57%) of dwelling households use non-sanitary latrines; 38.06% of households do not have latrine facilities.
Health centres Upazila health complex 1, family planning centre 8, satellite clinic 6.
NGO activities brac, asa, thengamara mahila sabuj sangha, CDS. [Sarkar Abdul Hai]
References Bangladesh Population Census 2001, Bangladesh Bureau of Statistics; Cultural survey report of Gabtali Upazila 2007.