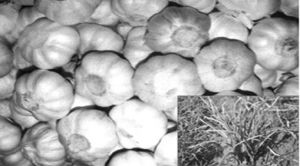 Garlic (roshun) a hardy liliaceous plant, Allium sativum, of the family Alliaceae, whose strong-scented, pungent bulb is used in cookery and medicine. The plant is grown throughout the country in about 13,100 ha, producing about 39,230 m ton cloves.
A native to Central Asia and southern Europe, especially the Mediterranean region, garlic is a rich source of carbohydrate, protein, phosphorus, potash, calcium, and magnesium. It thrives best on fertile, well-drained loamy soils, requires a cool and moist period during growth, and a relatively dry period during the maturity of the cloves.
Planted in November-December, clove is ready for harvest when the tops turn yellowish or brownish and show signs of drying up and bending over. Garli is grown all over the country with emphasis in Faridpur, Jessore, Rajshahi, Rangpur, Dinajpur, Pabna, Dhaka and Comilla areas. Currently the country produces about 90,170 metric tons of garlic on 25,593 hectares of land. Average yield per hectares is 3.5 metric tons. [SM Monowar Hossain]
See also spice.