Gaurnadi Upazila (barisal district) area 144.18 sq km, located in between 22°53' and 23°04' north latitudes and in between 90°08' and 90°22' east longitudes. It is bounded by kalkini upazila on the north, wazirpur upazila on the south, babuganj, muladi and Kalkini upazilas on the east, agailjhara and kotalipara upazilas on the west.
Population Total 180219; male 91959, female 88260; Muslim 149302, Hindu 28652, Buddhist 2029, Christian 79 and others 157.
Water bodies Main rivers: arial khan, Nunda, Agararpul.
Administration Gaurnadi Thana, now an upazila,' was established in 1806.
Upazila
Municipality
Union
Mouza
Village
Population
Density (per sq km)
Literacy rate (%)
Urban
Rural
Urban
Rural

1

7

128

130

37714

142505

1250

65.92

57.6
Municipality

Area (acre)

Ward

Mahalla

Population

Density (per sq km)

Literacy rate (%)

16.78

09

20

37714

2248

65.95
Union
Name of union and GO code
Area (acre)
Population
Literacy rate (%)
Male
Female

Khanjapur 55

5563

13874

13338

55.59

Chandshi 38

1822

4869

4830

65.47

Nalchira 71

5787

14420

11348

57.18

Batajore 31

4982

10290

9825

57.31

Barthi 23

5432

12831

12118

52.69

Mahilara 63

3190

7615

7467

61.02

Sarikal 94

6265

11538

11142

60.32
Source Bangladesh Population Census 2001,Bangladesh Bureau of Statistics.
Archaeological heritage and relics Allahr Masjid at Kasba.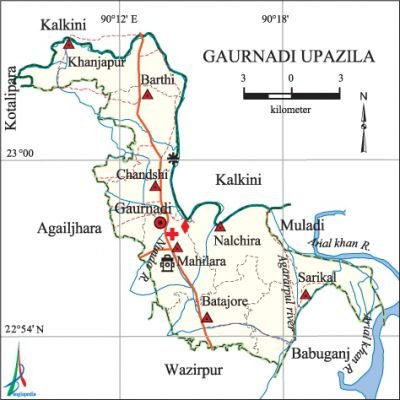 History of War of the Liberation The freedom fighters of the upazila raided the Gaurnadi Police Station on 9 October 1971. During the war of liberation the Pak army brutally killed many people at Trimohani and at a place on the back side of the Gaurnadi College; they also conducted devastating raids in the upazila. Besides, about 800 freedom fighters were killed in a number of encounters with the Pak army in different places of the upazila.
Religious institutions Mosque 170, temple 205, church 6. Noted religious institutions: Allahr Masjid at Kasba.
Literacy rate and educational institutions Average literacy 59.4%; male 62.3%, female 56.3%. Noted educational institutions: Gaurnadi College (1964), Nalchira High School (1911), Barthi Tara Secondary school (1905), Gaurnadi Pilot Secondary School, Palarde Secondary School, Sarikal Secondary School, Tarki Bandar Victory Secondary School, Medhakul BNS Secondary School, Pinglakathi Model Govt. Primary School (1882), Harisen Government Primary School (1885), Ramsiddhi Bazar Government Primary School (1895), Batajore Ashwin Institute.
Cultural organisations Club 27, library 22, cinema hall 2, circus party, literary and cultural organisation 1. playground 13, theater party 2.
Newspapers and periodicals Gaurnadi.
Main sources of income Agriculture 51.59%, non-agricultural labourer 2.84%, industry 1.82%, commerce 18.93%, transport and communication 4.48%, service 9.75%, construction 2.32%, religious service 0.28%, rent and remittance 3.50% and others 4.49%.
Ownership of agricultural land Landowner 59.84%, landless 40.16%; agricultural landowner: urban 54.95% and rural 75.89%.
Main crops Paddy, wheat, potato, betel leaf, vegetables.
Extinct or nearly extinct crops Sesame, jute, mustard, kalai.
Main fruits Mango, jackfruit, banana, litchi, blackberry, palm, coconut, papaya.
Fisheries, dairies and poultries Poultry 35, dairy 12, Fishery 35, hatchery 4.
Communication facilities Pucca road 38 km, semi-pucca road 39 km, mud road 300 km; waterway 19 nautical miles.
Extinct or nearly extinct traditional transport Palanquin, dulki.
Noted manufactories Rice mill, flour mill, threshed rice mill, saw mill, welding factory, ice factory, bidi factory, bat factory.
Cottage industries Goldsmith, blacksmith, weaving, pottery, bamboo work.
Hats, bazars and fairs Hats and bazars are 23, fairs 8; most noted of which are Torki Hat, Kosba Hat, Mahilara Hat, Chandshi Kabiraj Bari Mela, Paus Sakranti Mela (Batajore) and Manasa Mela (Gaila).
Main exports Paddy, betel leaf, banana, curt.
Access to electricity All the unions of the upazila are under rural electrification net-work. However 32.16% of the dwelling households have access to electricity.
Sources of drinking water Tube-well 96.88%, pond 2.37%, tap 0.32% and others 0.43%.
Sanitation 82.92% (urban 94.28% and rural 80.01%) of dwelling households of the upazila use sanitary latrines and 14.36% of dwelling houses use non-sanitary latrines; 2.72% of households do not have latrine facilities.
Health centres Upazila health complex 1, family planning centre 7, satellite health centre 4.
Natural disaster The cyclone and earth quake of 1737 and 1763 changed the course of the rivers of the region; it also changed the geological formations. Many settlements of the upazila were destroyed due to the cyclones and tidal bores of 1769, 1787, 1822, 1864 and 1876. Besides, the cyclones and tidal bores of 1776, 1882, 1909, 1919, 1941, 1958, 1961, 1965, 1970, 1988 and 1996 caused envy damages to settlements, crops and other properties of the upazila.
NGO activities Operationally important NGOs are brac, caritas, asa, proshika, CCDB. [Md Mizanur Rahman]
References Bangladesh Population Census 2001, Bangladesh Bureau of Statistics; Cultural survey report of Gaurnadi Upazila 2007.