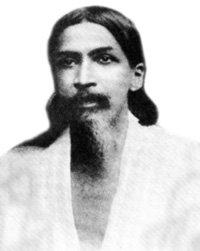 Ghosh, Aurobindo (1872-1950) nationalist leader, philosopher, ascetic, was born in Kolkata on 15 August 1872, son of Krishnadhan Ghosh, a physician trained in Britain, and Swarnalata, the eldest daughter of rajnarayan basu. To give him western education, his father sent him first to an English school at Darjeeling and later to St Paul's School in England. Aurobindo studied at King's College after passing his Entrance examination from Cambridge.
In 1890 he passed the Indian Civil Service examination but during probation he failed the riding test and was deprived of the civil service.On his return to India in 1893, he joined the service of the Baroda Estate. In 1900 he joined Baroda College as lecturer in English and in 1904, became its principal. At Baroda, Aurobindo came in contact with a secret revolutionary organisation.He inducted his younger brother barindrakumar ghosh in the revolutionary movement and sent him to Bengal to organise revolutionary activities. This was the time when the swaraj, or self-rule movement, had been initiated and Aurobindo gave it his full support.
There were three aspects of his political principles and action programme: one, to conduct secret revolutionary propaganda and develop organisations to prepare for an armed revolution; two, to carry on propaganda to prepare the entire nation for independence; and three, to organise the people for non-cooperation and resistance against foreign rule.
Aurobindo wrote a book Apas Nay (No Compromise) in 1903 and secretly distributed it among the members of the revolutionary groups. When the swadeshi movement started in protest against the partition of bengal in 1905, he left his Baroda job and came back to Bengal to take active part in various activities of the National Congress. In 1906 he became the first principal of Calcutta's National College (now Jadavpur University) and was made the editor of bipin chandra pal's English newspaper Bande Mataram. Following publication of a reader's seditious views in the paper in 1907, a case was instituted against Aurobindo and Bipin Chandra Pal. At the trial Bipin Chandra was convicted for six months, but Aurobindo was acquitted for lack of proof.
On 30 April 1908 a bomb was thrown into a railway compartment to kill the British magistrate Kingsford. However, two European ladies were killed instead. For this act Aurobindo was arrested on May 3, and on May 9 the police arrested Barin and his associates with arms, bombs and incriminating literature. All of them were implicated in what came to be known as 'the Alipur bomb case'. Some of them were convicted but Aurobindo was proved not guilty and released on 6 May 1909.
While in jail, a transformation occurred in the life of Aurobindo. He became increasingly attracted to spiritualism and, in 1910, he left politics and went to Pondicherry, a French settlement. There he established an ashram and devoted himself to propagating Hindu philosophy.'
At Pondicherry, Aurobindo wrote Yogasadhana. He also started writing regularly on yoga devotion and Hindu religion in different Bangla and English newspapers. He studied the Vedas, the Upanisad, Sadadarshan, the Gita, the Puranas and other scriptures and acquired deep knowledge of ancient India's religion and philosophy. His philosophical ideas developed on these principles: 1. there is an eternal circle that says all things emanate from Brahma and return to him; 2. life and death are the two sides of a single circle known as reincarnation of the soul; 3. the eternal principles of the universe are the human soul that determines the fate of nature; and 4. man's aim is to attain divine life that dissolves into Brahma; this divine life is attainable through knowledge of the self.
Aurobindo spent the later part of his life at his ashram at Pondicherry. During this time he wrote many books on religion, philosophy and Indian culture. Some of his well known books are Essays on the Gita, The Foundations of Indian Culture, The Life Divine (1939), Savitri (1950), Mother India, The Age of Kalidasa, The Significance of Indian Art, Lights on Yoga, A System of National Education, The Renaissance in India, Speeches of Aurobindo. His Bangla books include Pondicherir Patra (1921), Karakahini (1921), Bharater Navajanma (1915), Dharma O Jatiyata (1931), Yoga-Sadhanar Vitti (1942) and Bharate Rastranitik Pratibha. Aurobindo died on 5 December 1950. [Ramdulal Roy]