Goaldi Mosque one of the very few surviving medieval monuments in the city of sonargaon. About six km northwest of the little township of Panam, near Sonargaon in Narayanganj district, there are two such precariously surviving old single-domed mosques in the sequestered hamlet of Goaldi, virtually hidden behind thick bamboo brakes and clusters of mango and jackfruit tree groves.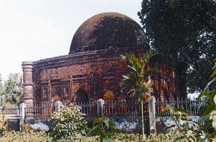 One of the mosques was built in 1116 AH / 1705 AD by a certain Abdul Hamid, during the reign of Mughal Emperor aurangzeb. Of late, it has been extensively renovated and enlarged. The other one, close to it in the same village, is also a single-domed square mosque with 4.8m sides, built according to an inscription by Mulla Hizabar Akbar Khan on 15 Shaban in 925 AH/ August 1519 AD, during the reign of Sultan Alauddin husain shah, son of Sayyid Ashraf ul Husaini. cunningham procured an estampage of the epigraph and forwarded it to the asiatic society of Bengal. blochmann deciphered this Arabic inscriptions (now lost) and edited the text with a translation in 1873 AD.
This elegant little pre-Mughal mosque - the oldest in the area - was in utter ruins when declared 'protected' by the Department of archaeology, but subsequently the monument was carefully restored in 1975 AD. Provided with three arched entrances to the edifice on the east and one each on the north and the south (now bricked up) the base of the dome rests on squinch arches at the four corners which support the dome on pendentives.
There are some ornamental black stone pillars inside the prayer hall for the support of the roof. Corresponding to the three arched doorways on the east there are three richly decorated mihrabs on the west wall, of which the central one is bigger and beautifully embellished with curved floral and arabesque relief on dark black stone, but the flanking side mihrabs are ornamented with delicate terracotta floral and geometric patterns. The central stone mihrab is framed within an arched panel with an expanded sunflower motif in the centre. Below that the spandrels of the multi-cusped arch of the mihrab are decorated within a rectangular frame. The engrailed arched recess is carried on stunted octagonal pillars faceted at stages. Four round-banded turrets at the outer corners rise up to the curvilinear cornice. [Nazimuddin Ahmed]