Gopalganj Mosque a single domed mosque, stands at Gopalganj at a distance of about 7 kilometres to the north of Dinajpur town. It lies behind the chihil gazi mazar of, at a distance of about one hundred metres from the Dinajpur-Bogra highway.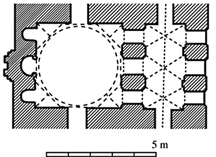 The prayer hall of the mosque is cubical in form and internally measures 4m on each side; the wall is about 1m thick. There is a groin-vaulted corridor, the width of which is 4.80m. Externally, the mosque measures 8.70m from west to east (including the verandah) and 6m from north to south. There are three arched entrances on the eastern side; the central entrance is bigger and wider (0.75m in width) than the flanking ones (0.60m in width). There existed an arched entrance in the middle of the north and south walls, but this is closed at present. All the arches in the entrances and openings are of two centred pointed type, springing from stone imposts.
The western wall has three mihrabs, positioned opposite the three arched entrances. The central mihrab is wider than the flanking ones. Each of these mihrabs is crowned with multicusped arches, which spring from conventional brick pilasters.
A large hemispherical dome, which no longer exists, once covered the prayer hall. The square chamber was transformed into an octagon with the help of half-domed squinches at the four corners and four other arches in the mid-wall, which finally transformed the octagon into a circle. The dome protruded from this circle.
It can be noted here that the squinches and arches do not spring from the pillars; rather they spring from the stone brackets projected out of the wall.
The mosque was decorated with terracotta bricks. Rosettes and floral patterns are the chief motifs. Geometric designs are also noticed. Fragments of terracotta bricks lie in and around the building. At the base of the dome is a projected band ornamented with a row of lozenges, bounded on either side by lotus petals. The mihrab of the mosque was decorated with stylised chain and bell motifs.
There is no inscription tablet in the mosque. But an inscription tablet of the tomb of Chihil Gazi contains the information that Ulugh Iqrar Khan instructed his subordinate officer Nusrat Khan to repair a Rawzah (tomb) and to construct a mosque in 865 AH /1460 AD. Till the discovery of any further evidence we may ascribe the mosque's construction to this date. [Sultan Ahmad]