Graphic Arts Institute established in Dkaha 1967. Mr Azam Khan, Governor of the East Pakistan and Dr Waqar Ahmed, Director General of the then Technical Education Directorate were the main initiators. Dr RK Mollah was appointed as its chief Instructor. He was sent to the South Dakota University of the USA for higher training on printing technology. Training was also given to other instructors of the institute at the Central Government Printing Press. The institute started with 25 seats.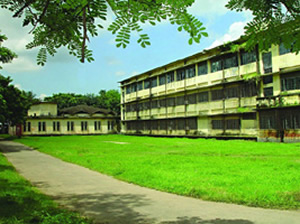 At present, the Graphic Arts Institute has become a complete printing institute, which is equipped with different types of printing devices like movable type, letter press, gallery type camera and also with modern technological devices like offset lithography, gravure printing, screen printing, modern process camera (horizontal and vertical) with auto plate processor, lithe film, panchromatic film etc.
In order to cope with the other printing presses of the country as well as modern printing technology of the world, the computer graphic course has been incorporated with the new curriculum began from 1995-96 session. In the institute both the Apple Macintosh and IBM computers together with image setter, drum scanner, laser printer, inkjet printer etc are available.
Since 1967, the institute approved a three years diploma (with six semesters) degree in printing technology usually offers by the Technical Education Board. However the course is rearranged from the current session (2001-2002) with four-year diploma (with eight semesters).
The institute is consisting 40 staff including 16 academic staff. At the moment it can absorb 50 students out of which 10% is preserved for the women and 5% for the tribal. From the 4th semester students will be divided into two groups: graphic reproduction and offset printing.
The institute also has residential building for the principal, three staff quarters for the teachers, officers and employees, one mosque and a 150-seated residential hall for the students. [Md Zahirul Islam Bhuiyan and Md Johir Uddin]