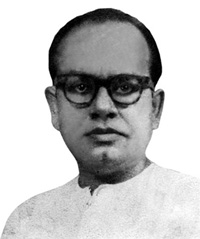 Guhathakurta, Jyotirmoy (1920-1971) educationist and intellectual was born in Mymensingh town on 10 July 1920. His father, Kumudchandra Guhathakurta, of Banaripara, Barisal, and his mother, Srimati Sumati, were school teachers. Guhathakurta matriculated from Mymensingh Zila School In 1936.
Guhathakurta then studied Intermediate Science at presidency college in Kolkata for a year, but an attack of typhoid prevented him from taking the final examination. Later he took admission in anandamohan college, Mymensingh, and, in 1939, passed Intermediate Arts.
He took admission in Dhaka University and graduated with honours in English in 1942, standing first in the first class. His academic success earned him the Pope Memorial Gold Medal. The following year he completed the MA. Guhathakurta taught in a number of colleges from 1944 to 1949, such as, Ananda Mohan College, Mymensingh, Gurudayal College, Kishoreganj, and Jagannath College, Dhaka. In 1949, he joined Dhaka University as lecturer in English. In 1963 he went to King's College, London University, on a British Council scholarship to do doctoral work on 'Classical Myths in the Plays of Swinburne, Bridges, Sturges, Moore and Eliot'. The dissertation was published by Dhaka University Press in 1973.
After completing his doctoral studies in 1967, Guhathakurta returned to Dhaka University and was promoted to reader, a position he held till his death. In addition to teaching, he served as house tutor of Jagannath Hall from 1958 to 1963, and then, from 20 April 1970, as provost.
He was also a member of the International Radical Humanist Association, the Dhaka Centre of the International Quakers Services, and the Bulbul Academy of Fine Arts. In 1951, he participated in the annual meeting of the All-India Humanist Association in Dehra Dun, and in 1964 in a conference of the International Humanist and Ethical Union in the Hague. Besides his doctoral thesis, his other publications include a number of essays in English and Bangla.
A highly successful teacher, Guhathakurta instilled in his students a love for good literature and the humanist ideals that he cherished all his life. When the Pakistan Army raided the Dhaka University campus on 25 March 1971, Guhathakurta's flat was broken into and he was shot in cold blood. He succumbed to his wounds at the dhaka medical college and hospital on 30 March 1971. [Kaiser Haq]