Gunmant Mosque located near the village Mahdipur on the bank of the Bhagirathi (the old Ganges), just a kilometer to the south of the citadel of gaur and about one kilometer to the west of lattan mosque.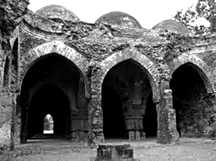 The mosque is quadrangular in plan. It was built on the same ground plan as that of the adina mosque at hazrat pandua. It measures 48m in length by 18m in breadth externally. Internally, it measures 44.50m in length by 13.65m in breadth.
The western prayer chamber of the mosque is divided into three sections - a central nave and the side-wings. The central nave is roofed over with a ribbed barrel vault resting on massive octagonal stone piers. It has an arched window opening on the east, built above the carved battlement in order to allow light inside the vault, thus bringing to clear view the precisely decorated terracotta work in the interior of the brick vault as well as the imitation of this work on stone. Each of the side wings is divided into three longitudinal aisles by stone pillars and roofed over with nine hemispherical brick domes.
The mosque had a corridor along the whole front as shown by a portion of the vaulted roof. The sahn of the mosque was not enclosed by the riwaq or cloister. Thus the Gunmant mosque in its plan conforms to the early oblong great mosque of Damascus, the mosque at Samarra, and the mosque of Abu Dulaf. In Bengal, the Adina Mosque is the pioneer work built on this plan. The idea of a nave, flanked by wings has been derived from the idea of the great mosque of Damascus, the first full-fledged mosque in the history of Islam. A number of similar mosques have been constructed in India, especially in the region of Gujarat. The higher central nave, flanked by lower side wings, is the basic characteristic feature of the Gujarati mosques.
About the decoration, cunningham writes, 'Apparently the back and side walls, as well as the front wall above the spring of the arches, were all faced with glazed tiles, as I found numerous fragments of different colours laying at the foot of the wall, while several large pieces of battlement in dark blue and white tiles were found in the village of Mahdipur.'
The date of construction of the Gunmant mosque is not definitely known. But there is a long inscription tablet of Fateh Shah dated in AH 889 (at present lying in Mahdipur outside a temporary mosque), said to have been brought by a Hindu from a ruined mosque to the south of the village. Cunningham ascribed this inscription to this mosque, since it was actually found not far from the mosque.
But because of the mosques octagonal towers at the corners, curved battlement, highly decorated terracotta art, terracotta imitation in stone, profuse use of glazed tiles and stone facing of the walls, ah dani thought it to be a construction of the husain shahi period. [Sultan Ahmad]