Haq, Zahurul (1935-1969) a sergeant of the Pakistan Airforce, killed in jail when he was under trial. Haq was one of the 35 persons accused in the agartala conspiracy case officially called 'State vs Sheikh Mujibur Rahman and Others Case' of 1968. He was born on 9 February 1935 in Sonapur village of Sudharam thana of Noakhali district. Zahurul Haq passed matriculation from Noakhali Zila School in 1953. He studied in jagannath college for two years and completed intermediate (commerce) education there. He joined Pakistan Airforce in 1956. Later, he was promoted to the rank of a sergeant.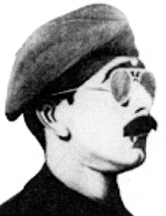 Sergeant Zahurul Haq was the 17th among the accused. Zahurul Haq was arrested in December 1967 and was confined in Dhaka Central Jail. Later, he and some other accused were transferred to Dhaka (Kurmitola) Cantonment. Members of public looked at the case as a conspiracy of the Pakistan government against the autonomy movement of East Pakistan. They organised mass movement and demanded immediate withdrawal of the case and release of all prisoners. According to the government decision, the final date for the case was 6 February 1969. But because of the mass upsurge of 1969, the government had to defer the date.
In the morning of 15 February 1969, a Pakistani habildar shot point blank at Sergeant Zahurul Haq at the door of his cell in the jail. He was taken to the Combined Military Hospital. There he breathed his last at around 10 pm. The news of the killing led a furious mob to set fire to the State Guest House and other government buildings. In the face of mass movement, the government had to withdraw the Agartala Conspiracy Case on 22 February 1969.
Colleagues of Sergeant Zahurul Haq knew him as an uncompromising and honest soldier. They often called him 'martial'. He was a good sportsman and a painter. He also had some skills in woodcraft. Some of his paintings are preserved in bangladesh national museum. A students' residential hall of the university of dhaka is named Zahurul Haq Hall in his honour. [S M Mahfuzur Rahman]