Haque, Kazi Anwarul (1909-2001) bureaucrat, technocrat adviser-minister and writer. Kazi Anwarul Haque was born in Dhaka on 8 February 1909. His father Khan Bahadur kazi imdadul huq was a literateur reputed for his classic Bangla novel Abdullah. Anwarul Haque obtained his grduation from the Dhaka University in 1932. He joined the Indian Police Service in 1932, and served as district superintendent of police in both East and West Bengal.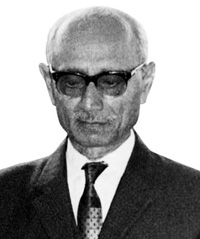 After the partition of India in 1947 he opted for Pakistan and then served as superintendent of police in Chittagong. In 1953, he was promoted to the post of Deputy Inspector General, and in 1958, to the rank of Inspector General of Police. Later he was absorbed in the civil service, and was the first Bangali to be appointed as the Chief Secretary to the Government of East Pakistan in 1961. He served as the chairman of Pakistan Central Public Service Commission (1963-65).In 1965, he was inducted into the Federal Cabinet of Pakistan as Minister for Education, Health, Labour and Social Welfare, a position which he held till 1969. Thereafter he was associated with the management of industries and business enterprises.
In Bangladesh, after the change of government in 1975 he was invited to join the Council of Advisors and Ministers. He held this position for six years during the presidency of Abusadat Mohammad Sayem, Ziaur Rahman and Justice Abdus Sattar.
After retirement, Anwarul Haque wrote his memoir Under Three Flags : Reminiscence of a Public Servant, an account of things and events witnessed by him under the three regimes he served in various capacities. He wrote a book on the freedom movement of the country entitled In Quest of Freedom (1991). He was an ardent supporter of the concept of 'community police', and he took keen interest in the efficiency and welfare of the police force even after his retirement. He died in November 2001. [Kazi Ebadul Hoque]