Haque, Mohammad Abdul (1918-1996) bureaucrat, politician and writer. Mohammad Abdul Haque was born on 1 January 1918 at village Kamalpur in Jakiganj thana of Sylhet district. He obtained BA (Hons) in English in 1942 from Sylhet Murarichand College.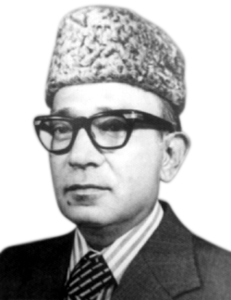 Abdul Haque passed the competitive examination of Assam Public Service Commission in 1943, and was appointed Deputy Superintendent of Police. After the partition of India (1947) he joined the Pakistan Police Service, and served as chief of police in the districts of Noakhali, Rangpur, Mymensingh and Dhaka. He was promoted to the post of Additional Inspector General of Police in 1960. He was the chairman of Road Transport Corporation from 1965 to 1969.In recognition of his devotion and honesty in service he was decorated with President Police Medal (1959), and was invested with the titles of Tamgha-i-Pakistan (1963) and Sitara-i-Khidmat (1969).
This was the first private hospital in Bangladesh. During the war of liberation it served as a safe shelter and a centre for medical treatment for the freedom fighters. In the 1970s Abdul Haque joined politics. He was elected a member of the Jatiya Sangsad in 1979 as an independent candidate. Abdul Haque was a member of the cabinet of hussain muhammad ershad in charge of Ministry of Land Administration and Land Reforms (1985-86). A good number of educational and social welfare institutions were established in the country by his initiative. He was awarded Sher-e-Bangla Medal and Bhasani Medal in recognition of his social service and welfare activities.
The literary contributions of Abdul Haque include such Bangla works as Rahugrasta Bangladesh, Deshta ki Rasataley Jabe, Sristir Sera Shata Manab, Daridra Bimochan, and an English title Yahya's Master Plan. Mohammad Abdul Haque died in Dhaka on 6 April 1996. [Shahida Akhter]