Haque, Syed Nazmul (1941-1971) journalist, martyr intellectual. He was born on 5 July 1941 at village Kandapara in Khulna district. His paternal home was at village Paigram Kasba in Khulna district. Nazmul Haque had his early education at his village school. He obtained BA (Hons) degree in Political Science in 1963 and MA in 1964 from Dhaka University. He got Diploma in Journalism in 1964 and MA in Journalism in 1970 from Dhaka University. Syed Nazmul Haque was active in progressive movement and the Bangali naionalist movment of the 1960s. He had vital role in the anti- martial law movement in February and the movement against education commission in August-September of 1962.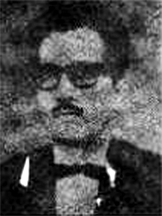 He took part in the agitation against East Pakistan governor Abdul Monem Khan at the convocation of Dhaka University held at Curzon Hall on 22 March 1964. He was arrested while in a procession, and was imprisoned having been alleged in convocation case. He was later released by a verdict of the High Court. Nazmul Haque successfully competed in the Pakistan Superior Service Examination in 1967 and was selected for appointment to the Information Service of the central government. But he could not join the service for want of police clearance due to his involvement in convocation case. Later he took to journalism as profession.
Syed Nazmul Haque was associated with journalism while a student in the University. He was the editor of Vista, a journal of the journalists of Dhaka University, published in 1964. The same year he joined in the Pakistan Press International (PPI) as a journalist.
He used to contribute articles on economics, social and cultural affairs to the papers like Dawn, Pakistan Observer, Dhaka Times, Web Unity etc. Besides, he was the city editor of Dhaka Times, and the Dhaka correspondent of Columbia Broadcasting Service. Nazmul Haque reported the whole proceedings of the agartala conspiracy case in 1968. Nazmul Haque was the solitary journalist accompanying Bangabandhu sheikh mujibur rahman on his sojourn to European countries in October 1969 after his release from jail.
During the War of Liberation Syed Nazmul Haque was the chief reporter of Pakistan Press International (PPI). He used to send the news of the oppression and atrocities of the Pak army beginning from 25 March 1971 to the foreign news media. Due to his role in favour of the liberation war he was arrested by the military government on 6 August and was carried to West Pakistan. He was brought back to Dhaka on 20 September and was kept under strict surveillance. He was again arrested on 19 October and was carried to West Pakistan. He was however released in the first week of November. On 10 December 1971, the activists of al-badr abducted him from his residence at Purana Paltan. Thereafter he could not be traced.
Syed Nazmul Haque was associated with cultural activities in his student life. He directed the display of dance-drama Shyama of Rabindra Nath Thakur staged at Curzon Hall of Dhaka University in 1963. Under his direction the dance-drama Chandalika was staged at British Council in 1967 and at Engineers Institute in 1970. Besides, he used to participate as actor in drama of Dhaka Radio and Television.
The Postal Department of the Peoples Republic of Bangladesh issued commemorative postal stamp in the name of Syed Nazmul Haque on the Martyred Intellectual Day on 14 December 1993. [ATM Zayed Hossain]