Hartog, Sir Philip Joseph
Hartog, Sir Philip Joseph (1864-1947) the first Vice Chancellor of the University of Dhaka. A British national Philip Joseph Hartog was born on 2 March 1864 in London. His father Alphonse Hartog belonged to a Jewish family of Holland which had later migrated to France and ultimately settled in Paris. Alphonse Hartog happened to be in London as a teacher of French language and settled there.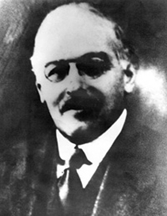 Philip Joseph Hartog had his early education in the University College School in London, and in the Owens College, Manchester. He obtained his BSc degree from the Victoria University in 1880, and BSc (Hons) in Chemistry from London University in 1885. Hartog was engaged in chemical research studies in France and Germany for a couple of years. Joseph Hartog started his career as an Assistant Lecturer in Chemistry at the Owens College of Manchester in 1891.
He was for sometime the part time secretary to the Victoria University Extension Scheme of which Tout was the chairman. Since 1903 Hartog had been the Academic Registrar of the University of London with distinguished record for long seventeen years. He was made the Crown representative in the governing body of the University in 1916. He was a member of the Calcutta University Commission (1917) of which Michael Sadlar was the Chairman. While the Academic Registrar of the University of London, the Governor General of India appointed Joseph Hartog as the Vice Chancellor of the newly established University of Dhaka for a term of five years beginning 1 December 1920.
He assumed office on 10 December 1920. The Governor General of India appointed him CIE in December 1920. Joseph Hartog continued to serve the University till December 1925. Dhaka University conferred upon him the honorary LLD in 1925.
Philip Joseph Hartog was a member of the Indian Public Service Commission, chairman of the Committee on Indian Education in 1928-29, and Director of the English Committee of an international body created to enquire into the reliability of examinations. Hartog was assigned to conduct part of the enquiries undertaken by the Indian Statutory Commission on Constitutional Advance in India. He was a member of the council of the liberal Jewish synagogue in London. He was appointed KBE in 1930.
Hartog was well versed in English, German, French, Hindi, Urdu and Bangla. Some of his publications are An Examination of Examinations (1935), The Marks of Examination (1936), Culture: Its History and Meaning. He died on 27 June 1947. [Muazzam Hussain Khan]