Hasan, SMA Rashidul (1932-1971) educationist, martyr intellectual. He was born on 1 November 1932 at village Barashija in Birbhum district of West Bengal. His father was Mohammad Abu Sayeed and mother Khadija Begum. Rashidul Hasan had his early education at Bhabta Azizia Madrasa in Murshidabad district. In 1947 he completed his secondary' education from the same Madrasa. Then he moved to Dhaka for higher studies. In 1949 he passed Intermediate examination from Dhaka Islamia Intermediate College. He obtained his BA (Hons) in English in 1952 and MA degree in 1954 from Dhaka University.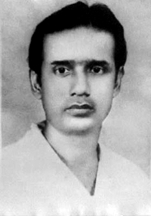 Rashidul Hasan began his career in 1954 as Professor of English in Narsingdi College. After one year he joined pabna edward college as Professor of English. In 1958 he left for West Bengal and joined the English Department of Krishna Chandra College. He came back to Dhaka in 1967 and joined the English Department of dhaka university as a Lecturer on 4 October 1967. He was promoted as Senior Lecturer in 1970.
In 1971, Rashidul Hasan used to live with his family on the 3rd floor of  the teachers' quarters near Iqbal Hall (now Zahurul Haq Hall). About this time he developed a liason with the freedom fighters operating in Dhaka. It was somehow disclosed to the intelligence of the Pak army. He was arrested by Pakistan army on 12 September 1971 and was released after 12 days.
As security measure, Rashidul Hasan and his family used to spend the night in Professor Anwar Pasha's residence at the Dhaka University campus and come back to his flat early in the morning. On 13 December at night they went to Anwar Pasha's residence and spent the night there. In the morning of 14 December, a number of persons wearing khaki outfit and black mask entered the residence of Anwar Pasha and abducted both Anwar Pasha and Rashidul Hasan. After 22 days the dead body of Rashidul Hasan was found at the scaffold of Mirpur. Rashidul Hasan was laid to rest beside the central mosque of Dhaka University.
The Postal Department of Bangladesh Government issued commemorative postal stamp in the name of Rashidul Hasan on the Martyred Intellectual Day on 14 December 1991 in recognition of his sacrifice for the cause of the nation. [Md. Mahmudul Hasan]