Hazari, Abdul Ghani (1921-1976) poet and journalist, was born on 12 January 1921 in the village of Nayagram in pabna. He obtained BA Honours in Philosophy from Calcutta University in 1944. He took admission in MA, but could not complete his studies. Abdul Ghani's career as a journalist began in 1947, shortly before partition, when he joined Alodan, a weekly magazine published from Kolkata, as editor.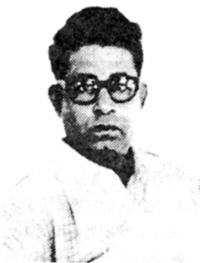 After 1947 he came to dhaka and was appointed assistant manager of the Jubilee Press. He published Chandrabindu, Mukti (1950) and The Republic. From 1965 to 1968, he worked in different capacities at The Pakistan Observer, Dainik Sangbad, Purbadesh, Chitrali and Parikrama. After the liberation of Bangladesh, he was made administrator of the Observer Group of Publications (1972-73) and chairman of the Newspaper Management Board (1974-1976).
Apart from his journalistic activities, Abdul Ghani played an active role in establishing and leading various organisations such as Lekhak Sangha, Dhaka Art School (1948) and Diabetic Association. Abdul Ghani was also an urbane and witty poet who revealed the incompatibilities and perversions of urban life.
Among his poetical works are Samanya Dhan (1959), Katipay Amlar Stri, Suryer Sindi (1965), Jagrata Pradip (1970). He was also a translator; among his translated works are Svarnagardabh (1964) and Froider Manahsamiksa (1975). Kalpenchar Diary (1976) is a compilation of his belles-letters. He received the unesco Award for Katipay Amlar Stri in 1964 and the Bangla Academy Prize for Poetry in 1972. [Badiuzzaman]