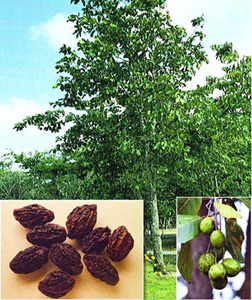 Horitaki a medium to large sized deciduous tree, Terminalia chebula, of the family Combretaceae, growing naturally in the forests of Chittagong, Cox's Bazar, Chittagong Hill Tracts, Dhaka, and Tangail. It is also planted as an avenue tree.
It usually attains a height of 15 to 20m and has a diameter of 50 to 80 cm. It has a rounded crown and spreading branches. Bark is grey or almost black, and is thick, having numerous vertical cracks. Leaves are ovate or elliptic. Fruits are drupaceous, one-seeded, and the pericarp is rather hard, leathery and fibrous even on ripening, 2.5 to 5 cm long, and elongated and tapered at both ends. Fruits turn yellowish green when ripe and when chewed has a bitter taste with a characteristic pungent smell. The kernels of the seeds are eaten. The timber is very hard and fairly durable.
Horitaki is a very important medicinal plant. It is used to produce the Ayurvedic recipe- Triphola. The unripe fruit is considered as a useful medicine for diarrhoea and dysentery. The dried fruits constitute one of the most important vegetable tanning materials available.
Timber is used for building construction as well as for agricultural and other materials like carts, axles, yokes, naves, furniture, and shelves. The wood is suitable for the manufacture of good quality tool handles. [Md Mahfuzur Rahman]
See also herb; herbal medicine; medicinal plant.