Hossain, Imdad (1926-2011) Painter, designer, language movement activist, freedom fighter, and a political, social and cultural organizer. He was born at his father's workplace Chandpur on 21 November 1926. His ancestral house was at Rohitpur (formerly Rothpur) village at Keraniganj in Dhaka district. His was the youngest son of his parents, Majid Box (Dhanu Mian) and Sabedun Nesa. He received his primary education in Rohitpur madrasa. The cultural environment of his family inspired him to become an artist from his childhood.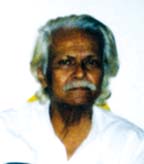 In 1946 he made attempts to get himself admitted to the Calcutta Art Institute. But his efforts went in vain as he could not submit the applications for admission within scheduled time. He returned to his village and established a library there.
He also became a member of the Mukul Fouz, the commander of Ansar force which was established comprising of young volunteers to sustain law and order and to avert miscreants just after the formation of Pakistan in 1948. For this reason he is still known as commander to the mass people of Keraniganj.
In 1948 Imdad got himself admitted in the first batch to the Dhaka Art College in its first batch. But he left the college after two months. Then he got himself admitted again in the second batch and obtained his graduation in 1954.
Imdad was one of the singers and organizers of Agrani Shilpi Sangha which was established in 1952. He was the frontrunner of all the processions of students in January and February of 1952. He was also a member of the Sarbadalio Bhasha Songram Committee (all-party Language Movement Committee) in the turbulent year of 1952.
He had spent the night of 20 February 1952 in the office of Language Movement Committee illustrating posters and banners before he took part in the meeting on the next day that was the historical 21 February 1952. In 1952, Dhaka Art Group, under the leadership of Imdad Hossain, participated in East Pakistan Artist Conference held at Iswar Pathshala in Comilla. Moreover he was involved in all the programs of East Pakistan Artist organized all over the country. He was actively involved in election campaign for United Front in Keraniganj, Dhaka and Savar areas in the national election of 1954. Imdad Hossain along with his fellow artists Kamrul Hasan, Bijon Chowdhury, Sarkar Joyenuddin and Abdus Sabur, formed a commercial group named VIBGYOR after their graduation from Art College. He worked at USIS from 1956 to 1960. In 1960 he joined in East Pakistan Design Center, an organisation established under the supervision of EPSIC and financed by the Asia Foundation. Next year he left Design Center and got himself appointed as Art Director in USAID Communication Media Centre. Imdad possessed a keen inclination towards music and his contributions to the formation of 'Chhayanat' are remarkable. He was also involved with Rabindrasangeet Sammilan Parishad. In 1963, Imdad joined as a Senior Lecturer in the Institute of Education Research, University of Dhaka. In 1964 he joined Swedish Pak Welfare Project and later in 1966 he joined as Chief Designer at Dhaka Center of the then Pakistan Television. In this period he formed a publishing house named 'Muktadhara' along with Comrade Nazimat Ali, Shuvo Rahman, Solayman and others.
During the uprising of 1969 he formed 'Charushilpi Sangsad' that was the first ever organisation of artists. Kamrul Hasan was the President and Imdad Hoassain was selected as the General Secretary of this organisation. Imdad played a vital role in designing posters, banners and installations of the uprising of 1969.
With a view to making education available to the mass people, Imdad Hossain established a college in his native village Ramer Kanda in 1970. Same year he was appointed as the President of Television Officers' Society. In the days of glorious liberation war, he organized freedom fighters in the guise of an employee of Bangaldesh Television. He provided the freedom fighters with crucial information, food and shelter in his own home.
After the establishment of Bangladesh Television In 1972, Imdad was employed in it. In 1976 he left the job and joined BSCIC. He roamed across the entire country in pursuit of folk art. He aspired to revive our folk culture and heritage by utilisation of folk art. Organisation of Baishakhi Mela (Fair) in Dhaka city is one of his efforts to resuscitate folk art and heritage. Baishakhi Fair was held first in Bangla Academy; but later the vanue was shifted to Sishu Academy. Finally it was held in Dhanmondi playing field. Through Charushilpi Sangsad he implemented Best Craftsmanship Award. He took the initiative to organise an exclusive Folk Art Fair, which was the first of its kind to be held abroad, in Italy in 1988. Craftsmen from different regions actively participated in this folk art fair. He retired from Design Center in 1991 and joined as a consultant in Color Scan Limited.
Imdad Hossain was involved in versatile activities. He proved his proficiency not only in jobs such as cover design, book design, product design, poster, banner, installation etc. but also in stage design of meetings arranged by progressive political parties and organisations, and set design for pavilions and television programs. The set designs for stage plays 'Mother' by Maxim Gorky and 'Raktakarabi' by Rabindranath Tagore are two of his most notable works. He designed a stunning gateway on the occasion of Queen Elizabeth's first visit to Dhaka city. He was also the designer of a tower commemorating 11 martyrs of the village Kolatia in Keranigonj. Besides that he is famous for monogram of Bangladesh Small and Cottage Industries Corporation (BSCIC), current logo of Bangladesh Television (the writing Bangladesh Television in the logo wasdesigned by Mustafa Monwar) and the inclusion of the red sun in the background of Shaheed Minar (1974). Imdad Hossain breathed his last on 13 Novemeber 2011. [Sanjib Kanti Das]