Hossain, Mohammad Moazzem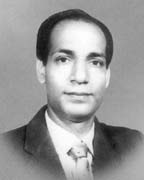 Hossain, Mohammad Moazzem (1932-1971) educationist, martyr intellectual. He was born on 1 December 1932 at village Badokhali under Bagerhat sadar thana. His father was Mohammad Abdul Ghani Molla and mother Chand Baru Bibi. Moazzem Hossain passed High Madrasa Examination in 1948 from Kajdia High Madrasa of Fakirhat, IA examination in 1950 and BA in 1952 from Bagerhat P.C College. He obtained MA degree in Economics in 1954 from Dhaka University.
Moazzem Hossain began his career as Headmaster of Chitalmari High School of Bagerhat in 1954. He joined as Lecturer in Economics in Bagerhat P.C College in 1955. He was the Head of the Department of Economics in P.C College in 1971.
With the beginning of the War of Liberation in 1971 Moazzem Hossain organized the local youths in Bagerhat to create initial resistance to the Pak army. He along with his cadres helped the refugees to cross over to India for safety. He organized the youths from remote areas of Bagerhat and sent them for military training to India. On completion of his training in India Moazzem Hossain returned to Bagerhat, and in October was assigned to work as administrative officer and organizer of the Bagerhat sub-sector under Subedar Tajul Islam. He fought battles against the Pak army at Madhavkathi and Panighat. He was shot dead by the Rajakars on 28 October on his way back home from Badokhali camp at night.
Moazzem Hossain wrote a number of books on Economics which include the English titles Banking, Handbook of Economics and Bangla titles Falita Orthaneeti, Pakistaner Orthaneeti, Orthaneeti Tattva, Saral Bank Byabastha. Besides, he was involved in various social welfare activities including the foundation of Badokhali Madrasa.
The Postal Department of the Government of Bangladesh issued commemorative postal stamp in his name on the Martyred Intellectual Day on 14 December 1997. He was awarded the Ruma Smriti Padak 1997 (posthumously) and Visva Bangali Sammelon Award 2001 (posthumously) in recognition of his contribution towards the cause of education and in War of Liberation. The Shaheed Professor Moazzem Foundation was established in Bagerhat in 1995 to preserve his memory. [ATM Zayed Hossain]