Huq, Mohammad Mozammel (1860-1933) poet and journalist, was born in the village of Baweegachi in nadia district. He lost his father early and was brought up by his maternal grandfather. A brilliant student, he won a scholarship after passing the vernacular examination. He studied at Tamachika Bari English School (1285 BS) and Shantipur Municipal English High School.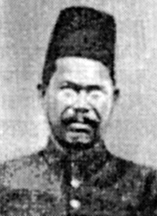 Mozammel Huq started his career as a journalist with the Calcutta weekly Samay. He then joined Shantipur Ramnagar Vernacular School as a teacher. In 1887 he joined Shantipur Junior Jubilee Madrassa. He also worked as assistant teacher at Tamachika Banga Bidyalay. asutosh mookerjee, former vice-chancellor of Calcutta University, appointed him examiner of bangla language in the Matriculation examination of 1919.
Mozammel Huq published and edited the Lahari (1899), moslem bharat (1920) and a monthly literary journal, Shantipur.
He was commissioner of Shantipur Municipality for forty years and also worked for a while as its vice-chairman. He was a member of the education committee of the Nadia District Board for thirty years, honorary magistrate for twenty years and vice-president of the bangiya mussalman sahitya samiti (1911) for some time. He played a prominent role in fighting superstition, orthodoxy, backwardness and apathy in Muslim society.
Mozammel Huq's major poetical works include Kusumavjali (1881), Apurbadarshan (1885), Premahar (1898), Hazrat Mohammad (1903), Jatiya Foyara (1912) and Islam Samgit (1923). Although primarily a poet, he also wrote prose, much of it highlighting the Muslim past.
Among his prose writings are Maharsi Mansur (1896), Ferdausi Charitra (1898), Shahnama (1909), Tapaskahini (1914, 2nd ed), Khwaja Mainuddin Chishti (1918), Hatemtai (1919) and Tipu Sultan (1931). He also wrote a number of novels, among them, Johra (1917) and Daraf Khan (1919).
Mozammel Huq's poetic achievements were honoured by the vangiya sahitya parishad, which conferred on him the title of 'Kavyakantha'. He died at Shantipur on 30 November 1933. [Md Harun-or-Rashid]