Huq, Syed Azizul (1912-1992) lawyer, politician. He was born on 1 October 1912 at village Chakhar in Banaripara thana of Barisal district. His father was Syed Motahar Hossain and mother Syeda Aftabunnesa Khatoon. Syed Azizul Huq, popularly known as Nanna Mia,' passed Matriculation Examination in 1928 from Khalishakotha School, ISc from Barisal BM College, and obtained BA degree from Calcutta Islamia College in 1932.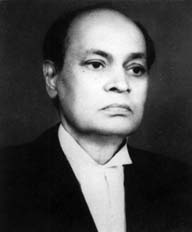 Azizul Huq served for some time in calcutta corporation, and later worked as a private secretary to ak fazlul huq. Azizul Huq served as an Assistant Director in the Industrial Museum, Calcutta. Meanwhile he obtained BL degree. He opted for retirement from government service in 1951 and joined the legal profession.
In his student life, Syed Azizul Huq worked as an activist of the Bangiya Muslim Sahitya Sammelon. Later he joined the Bangiya Praja Sammelon. He was a member of the working committee of krishak praja party.
He was elected a member of the Provincial Assembly in 1954 from Jhalakathi-Wazirpur constituency of Barisal as a nominee of the united front. He was a member on the cabinet of A.K. Fazlul Huq with' the charge of Minister for Education. He was also the Minister of Commerce and Industry in 1955 in the cabinet of abu hossain sarkar. Syed Azizul Huq took part in the framing of the Constitution of Pakistan in 1956 as a nominated member of the Constituent Assembly.
Syed Azizul Huq took part in the political movement against the autocratic rule of Ayub Khan in 1969. He was one of the nine leaders who signed a statement to launch a movement against the autocratic rule of Ayub Khan. Later on, he floated the National Democratic Front (NDF) and subsequently the Pakistan Democratic Party (PDP). After the devastating natural disaster of 1970, his party, in league with some other political parties, boycotted the elections in protest of the failure of the central government in giving due attention to the disaster. During the War of Liberation Syed Azizul Huq lived a quiet life in Dhaka.
Syed Azizul Huq became active in politics again after 1975, and was elected a member of the Jatiya Sangsad from Barisal-2 constituency in 1986 as a candidate of jatiya party. He was again elected a member of the Jatiya Sangsad in 1988. He was the president of the Dhaka District Lawyers' Association for four terms. He was the chairman of a number of welfare organisations including Bangladesh anjuman-e-mofidul islam and Rahmat-e-Alam Islam Mission. He played active roles in founding the Chakhar AK Fazlul Huq College in 1940 and Central Women's College in Dhaka in 1956. Syed Azizul Huq established the Syed Azizul Huq College at Habibpur in Wazirpur upazila of Barisal district. He died in Dhaka on 11 February 1992. [Syed Mainul Huq]